Green Glowing Smoothie Bowl
With this intense heat coupled with a very unusually high humidity here in Los Angeles I've been searching for all sorts of ways to turn my meals into ice cream, lol! Normally I'm not one who likes cold anything, from weather to food. Even in the heat I like my drinking water room temp, including smoothies. But, lately with this humidity I've gotten desperate! Almost every morning I've been starting out with nice cream or just a really cold ice cream like smoothie using lots of frozen fruit. It really helps, when you feel cool on the inside you feel better all over! So if you're looking to keep cool try this out succulent smoothie bowl and feel refreshed from with in.
If you follow me on Instagram you probably saw how good my garden was going for a while, I had this green thumb streak that was going pretty strong for a while..that is until July hit. If you're from LA..the Valley, then you know the intensity of July and August. It ain't fun unless you can be in the pool or beach all day. Where my garden sits in my yard it has direct sunlight all day until about 4pm, so it has no break from the oppressive heat during the day.
I pretty much lost the majority of my garden except for the greens, especially these lacinto (dinosaur) leaves. These leaves are pretty hardy there's nothing that's gotten the better of them yet, from aphids to the valley inferno heat. They keep growing stronger and bigger, and they make for awesome salads, are great in juices and smoothies, soups or steamed. Kale is definitely a must in a fibro-fighter's diet, it's filled with so many powerful nutritional benefits. This smoothie bowl is a great way to get greens into your diet if you're not a greens lover, cause its sweet tasting not bitter or overly grassy tasting.
Another thing I love snacking on in this heat is frozen cherries, they're so refreshing and sweet it's like candy! I just go crazy for summer fruit. What's there not to love, I mean come on cherries, strawberries, peaches, watermelon, apricots…I can even conceive the idea that some actually think this raw food diet is boring. Just look at the colors of the food, there's noting boring about it!
The key to these bowls is to fill them up with tons of fresh fruit, I used strawberries, kiwi and cherries. This makes for such a satisfying breakfast, keeping you feeling filled for hours and energized!
Servings 1
Recipe:
1 cup packed kale, stems removed
2 cups romaine lettuce
2 cups fresh pineapple
2 cups frozen mango
1 1/2 frozen banana
Several basil leaves
1/3 cup water
Process all ingredients into a blender and blend on high until smooth. Pour into a medium bowl and top with tons of fresh fruit.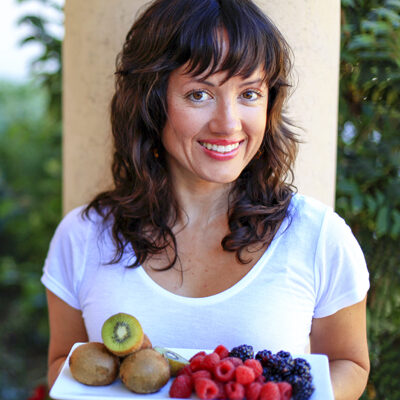 Hi, I'm Christine, thanks for stopping by! As a fibromyalgia thriver (symptom-free for over 10 years now thanks to diet and lifestyle changes), it is my passion to share the healing power of food.
As an RN and Holistic Nutrition Practitioner, it is my desire to empower you to take charge of your life.
Let's journey together to glowing health. Learn More
Your Health Transformation
Starts Here!
Sign up to get FREE healthy lifestyle tips and recipes!