No-Bake Cherry Orange Walnut Spiced Truffles
These orange spiced truffles are another recipe I created when I first started the raw food diet. When I initially started going raw the idea of making desserts overwhelmed me. I had a complete creative block trying to make them. Understanding new ingredients and their measurements, which nuts make a good base or what flavors are good to combine, what makes something creamy etc. On top of that they all seemed to have so many ingredients and steps to follow.
When I wanted something sweet I'd buy a raw snack at the store.  But that got quite expensive, they really threw my budget for a loop.  So, I started browsing over raw dessert recipes trying to get the "new mentality" that comes with the  raw food lifestyle.  
My first attempt at creating a raw food dessert were the simplest fruit and nut balls. With just a few ingredients and literally ten minutes you can have a wonderful satisfying snack to pack with you. They're great to have on hand for when you crave something sweet and or even as a protein rich breakfast.
I shared them with my family, nervously (lol), and to my surprise they loved them! They even came back asking for more. I knew I was on to something (smile)

These truffles are gluten-free with no added refined sugar which is great because those are two huge triggers for my fibromyalgia. The fact that I can eat healthy treats now without having to worry about suffering after with digestion problems or pain caused by the gluten, is amazing to me! On the days at the hospital when I had long shifts these made a great snack to pack. They're energizing and I can eat them on the run since sometimes our breaks can be quite short.
I've been asked a lot how I manage working as a nurse with long shifts and keeping up with my raw food diet. While I no longer have those long shifts, the key for success in general is preparation. I prepare snacks and my meals as much as possible the night before, and I'd come to work with a bag full of food. Working 12 hour shifts I had to make sure I ate plenty to have the energy to do my job. After a while I got into my routine and the preparation and organization was all part of it, but it did take time to adjust. It was all worth it though, to feel this good!
Makes 15
Recipe:
1 cup raw walnuts (soaked overnight, drained and rinsed)
1 cup cashews 
2 tablespoons fresh orange juice
1 orange, zest of
1 teaspoon vanilla extract
1 cup dried cherries (un-sulphured and unsweetened)
Cinnamon and coconut sugar to roll them in
Directions:
Blend in the food processor the cashews until it becomes a coarse meal. Then, add the cherries, orange juice and zest and blend until it becomes a sticky mix. Add the walnuts in and pulse blend a few times, not too much you want to have some chunky pieces, just enough to blend it in well.  Scoop into bite size balls and chill in the freezer for 30 minutes. Take out of freezer and dust them with a mix of cinnamon and coconut sugar.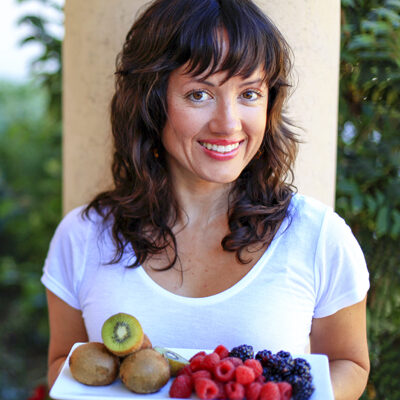 Hi, I'm Christine, thanks for stopping by! As a fibromyalgia thriver (symptom-free for over 10 years now thanks to diet and lifestyle changes), it is my passion to share the healing power of food.
As an RN and Holistic Nutrition Practitioner, it is my desire to empower you to take charge of your life.
Let's journey together to glowing health. Learn More
Your Health Transformation
Starts Here!
Sign up to get FREE healthy lifestyle tips and recipes!