How Carmen Reclaimed Her Life From Fibromyalgia With the Raw Food Diet
Today I want to share with you a dose of inspiration. I'm excited to share with you the story of a beautiful and strong woman named Carmen. Her desire to reclaim her life from chronic fatigue and suffering from fibromyalgia led her on the path of the raw food diet! I'm so proud of her and how far she's come. I feel honored that she allowed me to be with her along her journey. As a fellow #fibrofighter myself it brings me great joy to be able to share experiences like these to bring hope to you and others who may suffer chronically.
"I've dealt with Fibromyalgia since 2005.  Prior to that I was very active. I loved doing things for other people and enjoyed a full and satisfying active life.  That changed for me suddenly after a car accident which left me with Fibromyalgia.  I kept seeking a relief from CONSTANT pain.  I sought various forms of treatments.  I spent thousands of dollars only to be left feeling the same or in most cases worse.  I had major brain fog, lacked concentration, burning PAIN in my arms, shoulders, hip and in the back of my knees. I felt very TIRED all the time, no energy and debilitating headaches. Both me and my husband were diagnosed with high cholesterol, and our doctor was monitoring it.
I MOURNED for my active life I had before.  I wanted to feel normal. I heard about Christine's experience with diet change from a few friends.  I finally decided to read her story.  It brought tears to my eyes because it was like she was talking about me! I decided to call her and talk to her about my condition and how her program could turn my HEALTH around.  She explained everything, answered all my questions and left the ball in my court with no pressure.
I realized that this would be a life style change.  I was willing to give her program my best shot.  Which I did and within days my brain fog was gone! I began to feel more ENERGY and have less pain. I even LOST over 20 pounds, something I could never do before with any diet! 
My husband even joined me for 6 months! Since then he has adjusted his eating HABITS and gave up a lot of foods.  Every morning he makes his smoothie.  He used to suffer from heartburn and live on tums.  He felt BETTER within days after his changed diet! Also, after just a few months into the program we were told by our doctor that our cholesterol levels were totally NORMAL!!
It's been 1 year and 9 months since I've changed my eating habits. As a result, I'm in a position to help other people by volunteering 70 + hours a month in my ministry.  I am able to wake up EARLY in the mornings and actually see a BEAUTIFUL sunrise, something I've never been able to do before.  My brain fog is gone! The debilitating headaches I would get are gone too!
I am still in the process of HEALING one meal at a time but I'm so THANKFUL to Christine for sharing her program with me and giving me the tools to get my life back."
THANK YOU Carmen for sharing! and inspiring us!  Lots of love and GLOW on your continued journey!
Our GLOWING community is growing and it's so exciting and motivating to hear one another's stories. Are you ready to say YES to YOUR health and happiness, and to have your own transformation story?
Sign up today and begin your journey!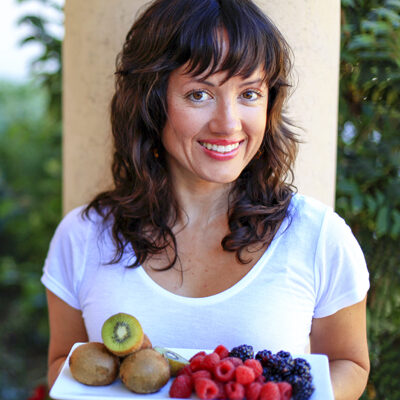 Hi, I'm Christine, thanks for stopping by! As a fibromyalgia thriver (symptom-free for over 10 years now thanks to diet and lifestyle changes), it is my passion to share the healing power of food.
As an RN and Holistic Nutrition Practitioner, it is my desire to empower you to take charge of your life.
Let's journey together to glowing health. Learn More
Your Health Transformation
Starts Here!
Sign up to get FREE healthy lifestyle tips and recipes!