Raw Vegan Cashew Sour Cream
This raw vegan cashew sour cream is so simple, easy to make, creamy, delicious and so much healthier for you than sour cream. Once you make this you won't go back. It's been such a crowd pleaser including when I brought it to a potato bar potluck at a friends house. This was the only sour cream there and let's just say it was not a vegan crowd, and nobody even noticed!
I love bringing my vegan dishes to share with an unsuspecting crowd, lol. It's always fun seeing them digging in enjoying a healthy, delicious meal and not even knowing it's vegan, let alone raw vegan. The key is when you bring a vegan dish for a social gathering is not to mention it's vegan. As long as it's delicious people won't even give it a thought or feel the need to classify it.
With just two ingredients, this only takes a couple of minutes to make. My meal prep day is usually Sunday, that's when I'll make it to have it on hand to pull from throughout the week. It lasts 4-5 days stored in an air-tight glass container in the fridge. You can add a dollop of it to a salad, or even use it as the base for a creamy salad dressing adding fresh herbs and spices, it's great on a baked potato, or as a veggie dip. It's versatile and you can doctor it up as you like.
You are going to need a high-speed blender with this and if you don't have a tamper like the Vitamix has to mix it while blending, you will need to stop it every few seconds to scrape the sides down and blend again until its smooth and creamy.
Recipe:
1 cup raw cashews, (soaked in filtered water 6+ hours, drained then rinsed)
1/4 cup lemon juice (60 ml)
(optional) pinch of salt
1/2 cup filtered water
Directions:
Process above ingredients in a blender on high until creamy
Using a spatula scrape out into a glass bowl and either serve immediately or store in the fridge with an air-tight cover.
And that is it! Make sure to share this recipe (is it really a recipe with just two ingredients? lol) with a friend who is looking for dairy-free recipes.
When you make this don't forget to tag me at @justglowingwithhealth or hashtag your photo with #justglowingwithhealth so I can see all the deliciousness!
PS make sure to sign up for my newsletter for our raw food challenge this month to get recipes and tips sent directly to your inbox! Click here.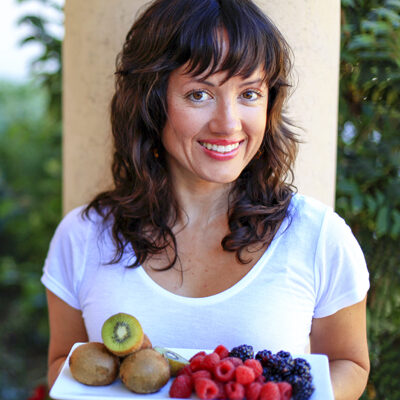 Hi, I'm Christine, thanks for stopping by! As a fibromyalgia thriver (symptom-free for over 10 years now thanks to diet and lifestyle changes), it is my passion to share the healing power of food.
As an RN and Holistic Nutrition Practitioner, it is my desire to empower you to take charge of your life.
Let's journey together to glowing health. Learn More
Your Health Transformation
Starts Here!
Sign up to get FREE healthy lifestyle tips and recipes!