This past month as some of you may know my husband decided to take the plunge from his carnivorous ways, to give his best efforts to a 30 day plant-based diet.  So the whole month I was busy trying to keep him on the straight and narrow, lol,  with healthy, delicious plant-based cooked recipes.  I found that as long as I prepared in advance to make little snacks to have on hand or  simple meals that he could pull from the fridge even if I wasn't there he did well.  Normally he loves to cook, but with this totally "foreign" way of eating he found himself a little lost.  He did become an artistic salad maker though I have to say!
Anyway having little dips and sauces like this hummus came in really handy because it lasts for several days, it's ready in the fridge as he needed and it  is perfect with raw veggies like celery, cucumber, broccoli or any veggie of choice.  Plus, it's really easy to pack and bring to work.  So with a little extra thought and preparation I have to say it went really well.
This hummus is so easy to make and other than the boiling of the chickpeas the rest takes literally under ten minutes.
I love eating it with cucumbers and olives it is such a good snack.  You can also use this as a spread in place of mayonnaise.  It's much healthier for you.
I brought this hummus to my workplace and had all my coworkers try it, so I can say it is nurse approved! They all loved it, they even asked if I would start making it to sell it to them!  Making homemade hummus is so easy, there really is no need to buy it in a store.  It is passed off as a health food but if you ever look at the ingredients on the back of the container of store-bought hummus it is filled with preservatives and chemicals, and always stay away from anything that says "natural flavors".  That's a sneaky way of adding  toxic ingredients like MSG, and other artificial flavors.
I still put my raw touch on it using raw LIVE tahini instead.  It actually gave it more flavor and a nice creamy texture.  If you want it less thick than just add more of the reserve water form the boiled chickpeas.   Of course if you want it thicker and creamier add less water.
Recipe:
1 1/2 cups dry chickpeas, soaked overnight, drained & rinsed*
1/4 cup tahini
1/2 cup lemon juice
1/2 tsp Himalayan salt
2 garlic cloves
1 tsp cumin
2 Tbsp olive oil
1/4 cayenne pepper
1/2 cup reserve water from boiled chickpeas**
Boil chickpeas in 4 cups of water until fork tender (about 1 hour).  Drain all but 1 cup reserve water and set aside.  Place chickpeas, lemon juice, salt, tahini, garlic, and cayenne in food processor.  Process on low, as it processes pour in the olive oil and slowly  add the reserve water until desired  consistency is reached.
*Dried chickpeas can be substituted for canned, then you would skip boiling them.
**Use more or less water for desired consistency.
Serve immediately with a variety of raw veggies and enjoy!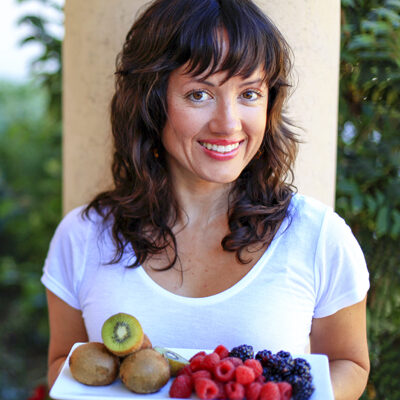 Hi, I'm Christine, thanks for stopping by! As a fibromyalgia thriver (symptom-free for over 10 years now thanks to diet and lifestyle changes), it is my passion to share the healing power of food.
As an RN and Holistic Nutrition Practitioner, it is my desire to empower you to take charge of your life.
Let's journey together to glowing health. Learn More
Your Health Transformation
Starts Here!
Sign up to get FREE healthy lifestyle tips and recipes!