This is one of my favorite salads.  For one, I absolutely adore mangoes.  I can easily eat a mono meal of just mangoes especially when they are ripe, in season and dripping with sweet juice.  I particularly love this salad though, because it is so zesty and full of flavor that there is absolutely no need for salt or oil.  It's delightful all on its own.
My favorite meals are the simplest ones.  That is why I love the raw food diet.  It usually only takes a handful of ingredients, no super long shopping list to take with you grocery shopping just to make a dish.  I want to be able to make my meals with less than ten ingredients (ideally five or less) and in ten minutes or less.  I have never been a girl who loves being in the kitchen let alone cleaning up a  big mess afterward.   So, when I first found out about raw foods I  just knew it was for me.
This mango salad awakens all your taste-buds from the sweet mango, to the tart cranberries, to the lip puckering lime.  The addition of the crisp, fresh bell pepper to add that little crunch and of course cilantro.  I am a huge lover of cilantro.  It seems that people either love it or hate it, but I LOVE LOVE cilantro it just finishes this salad off nicely.
Is your mouth watering yet? I know mine is! Enjoy this delightfully simple, zesty dish and let feel your taste-buds dance in delight!
Serves 1
Recipe:
1 ripe mango, peeled and sliced into medium size pieces
1/2 red bell pepper, cubed
1/4 red onion, diced
1/4 cup cilantro, chopped
1/2 lime, juice of
1 handful of raw dried unsulfured cranberries
Toss all the above ingredients into a bowl to combine. That's it! Serve immediately.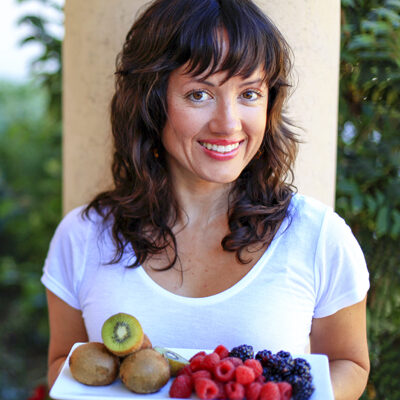 Hi, I'm Christine, thanks for stopping by! As a fibromyalgia thriver (symptom-free for over 10 years now thanks to diet and lifestyle changes), it is my passion to share the healing power of food.
As an RN and Holistic Nutrition Practitioner, it is my desire to empower you to take charge of your life.
Let's journey together to glowing health. Learn More
Your Health Transformation
Starts Here!
Sign up to get FREE healthy lifestyle tips and recipes!