Highlights of Our Trip to Venice + Where We Stayed
This post about our Venice trip is the third of of a four part series. If you haven't yet make sure to check out our Vegan Road trip to  St Moritz, Switzerland and our Day Trip to Innsbruck, Austria for all the fun.
As usual I have a ton of photos to share, you know me I like to tell my story through photos more than words, after all they say a picture is worth a thousand words right? And come on it's Venice how could I not come home with at least a few hundred photos?? If you've been there you know what I mean.
This was not my first time visiting Venice, but it's such a unique city that each time feels like the first in that there's always something new to discover about it. There are so many nooks and crevices of the town that it's hard to walk down the same street twice.
Venice is a 1,700 year old city in northern Italy in the Veneto region. A city built entirely on water, there are no roads only canals with bridges to get you from one side to the other. It's built on over 100 small islands so you can imagine how many bridges there are.
It's filled with a rich heritage of art, history and impressive buildings. The canals, lined with Venetian Architecture, light up at night creating a magical ambiance that puts you back in another time.
We purchased  the Tourist Travel Card, which allows you to use the Water Bus to slowly cruise up and down the Grand Canal, the main waterway, making unlimited stops as needed for 24 hours. This canal takes you to most of the major sights you'll want to see. It's a nice way to see Venice from the water view and to be able to get some beautiful shots of the views around.
We could have walked it but it was so crowded it wouldn't have been enjoyable. All the narrow little walkways can get you lost easily so we didn't want to deal with that the whole day. By the way, I definitely recommend, if possible, to visit Venice on a weekday instead of the  weekend. There was a big difference from Friday then Saturday in how many people were there. On Saturday seven cruise ships docked so you can only imagine the sea of people all trying to sightsee.
The Rialto Bridge (in the photo below) is the most famous of the four main bridges on the Grand Canal. It is originally built in the 12th century and is a huge tourist attraction there. It's also one of the main stops on the water bus from where you can reach the Rialto Market (shown in the photo below this one).
One of the highlights of Venice for me, being the raw vegan that I am, was the Rialto Market. It was an absolute fruit heaven, with seemingly never ending displays of the most beautiful ripe fragrant fruits and veggies I've ever seen. Definitely on the costly side but if you were in a bind and had nothing to eat it was nice to know that I could pick up a box of ooey-gooey figs that could be eaten right there. Everything was ripe and ready to go, it was spectacular!
It was suggested to us, to get here earlier in the day so I'll pass on the same advice on to you. While there we saw many locals doing their morning shopping with their baskets in hand. It seemed to be a central place where Venetian daily life and tourism temporarily merge and it's a nice blend of flavor.
The Rialto district was one of the first parts of Venice to be developed. This market is definitely a hidden gem worth exploring.
The one thing about Venice is that you can have two totally different experiences. It's like one world during the day and then a whole other at night. If you're there only for the day make sure to stick around until the evening when all the lights turn on. It transforms into a town of elegance and magic.
It's so much more romantic at night. Nothing like having a quaint dinner overlooking the canal with the dim lights and the moon illuminating the narrow backstreets.
I didn't get to eat at any vegan restaurants, although I there are some in Venice. I brought my own snacks with me and found salads and roasted veggies at whatever restaurants we went to. I did find a nice little smoothie bar, called Purem, that uses local organic non-GMO produce so that was such a joyful find. On a hot day it was so refreshing to have a nice cold smoothie.
It seems like everywhere you turn there's a photo waiting to be captured. Only Italians can get away with old dilapidated buildings coming off as artsy, yet elegant and charming. I mean seriously, when we were looking close at so many of the buildings they appeared to not have been restored let alone kept up for decades. Yet somehow that adds to the Italian Venetian charm and I couldn't get enough of snapping my camera.
The most famous attraction in Venice is St. Marks Square, known to Italian's as Piazza San Marco. Here you will find the exquisite San Marco Basilica (below). This is one of the most stunningly beautiful squares with an immensely intricate display of architecture and lavish design you'll ever see. The photos below hardly do it justice.
In this square alone there are several things to see. Next to the Basilica is the Doge's Palace and adjoining the Palace is the famous Bridge of Sighs, leading to the Palace's infamous prison cells, just to name a few.
I highly recommend taking the water bus down the Grand Canal it makes for such a great view of it from the water and you'll get some great photos from it. You can always take a gondola ride, if you do know that during the day is much cheaper than at night. If you don't want to pay an exorbitant amount for a 40 minute Gondola ride but just want the gondola experience, you can take a traghetto. A traghetto is an empty gondola used to ferry passengers back and forth across the canal. It may not be as romantic but it'll give you some great views.
In case you're wondering where to stay, I'm going to share with you where we stayed to keep it cheap yet convenient. Everywhere we've traveled to in Europe we've used Airbnb and have had only wonderful experiences. We have always found the most amazing houses and flats at such great rates, I highly recommend checking them out.
We stayed on the center of the mainland of Venice in a town called Mestre. It was significantly cheaper than staying on the island and for the price you get much more. We booked it through Airbnb, and we it to be a very comfortable apartment. The host Alessandro was very pleasant and the location ideal.  It's walking distance to the heart of Mestre and public transportation that took us straight into Venice.Click here to see photos and more details of the apartment.
I hope you enjoyed coming on a virtual trip with me to Venice and if you've been there I'd love to hear your experience and how you liked it, so please share below in the comments.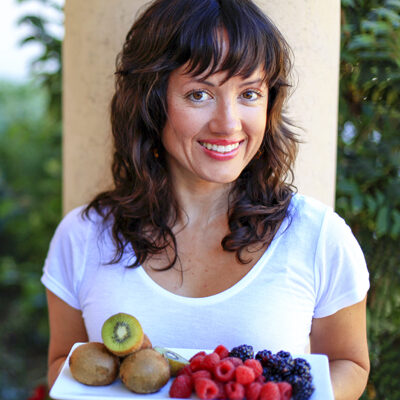 Hi, I'm Christine, thanks for stopping by! As a fibromyalgia thriver (symptom-free for over 10 years now thanks to diet and lifestyle changes), it is my passion to share the healing power of food.
As an RN and Holistic Nutrition Practitioner, it is my desire to empower you to take charge of your life.
Let's journey together to glowing health. Learn More
Your Health Transformation
Starts Here!
Sign up to get FREE healthy lifestyle tips and recipes!