Day Trip to Innsbruck Austria + Vegan Eats
This post is a follow up from my Vegan Road Trip From La Spezia to St. Moritz. If you haven't checked it out yet make sure you do! Innsbruck Austria was a highlight of this trip. It was charming, picturesque and simply idyllic. Austria has always been a dream of mine to see and some day soon I hope to explore much more of it. But for now I'm happy to have had a taste of it with this day trip to Innsbruck.
Why Innsbruck? Initially it was simply because it was the closest main city from where we were staying in St. Moritz. It took about two and a half hours to get there so it was doable to drive, sight-see, eat and come back  all in one day without feeling overwhelmed or exhausted by the end.
Innsbruck is an historical town of over 800 years old with a mix of Gothic and Baroque style. It's nestled in the Alps with a population of around 120,000. When I'm on vacay I really prefer quaint slow-life towns rather than the hustle and bustle of an overcrowded  metropolis. So this size town was ideal for me.
The first thing that stands out about Innsbruck are the vibrant pastel colored buildings. The day we went it was cloudy, rainy and gloomy outside. But, somehow with such bright happy colors everywhere it didn't feel so grey out, it lifts that gloomy feeling.
I'm a huge lover of photography and can easily get caught up for hours trying to capture the 'next best shot'. I literally had to be dragged away from this strip here because it was such a gorgeous shot, waiting to be taken lol. And of course I can't just take one or two shots, I have to get like 50 in case the first 49 don't come out right haha. At least that's how my family would describe me. I guess you can say I'm really passionate about 'capturing the moment' just right so that whoever looks at my photos sees what I was seeing.
As you see in this post I couldn't narrow down which photos to include so didn't hold back, hope you enjoy all of them. This place was too beautiful I couldn't help myself. As I was posting I kept saying, "just one more..oh I have to share this one…oh wait but there's this one!" By the way if you want to see more photos of all my trips I recently created an Instagram account specifically for my travels. You can find me over at @mylifeinlaspezia see you there!
Even though we were only in Innsbruck for a day I was impressed by how vegan friendly it seemed. As soon as we got out of the parking garage there was a vegan caffe on the corner. Shortly after that, there was a gorgeous produce market with the most stunning display of fruits and veggies (see below).
It's always fun for me discovering new fruits and veggies in each place. In this town I noticed a lot of these red berry like fruit (2 posts below) they looked like cranberries but smaller and I couldn't figure out what they're called in English. If you happen to know I'd love it if you leave the name in the comments below!
The restaurant we ate at wasn't vegan but it was so wonderful how accommodating the staff was at Altstadt Beisl to create a meal that I could eat even though it wasn't on the menu. One thing I really appreciated on this trip, whether in Switzerland or here in Innsbruck was that every place I went to was so accommodating with substituting or offering alternatives to non-vegan ingredients so that I could enjoy their local dishes along with everybody else.
I"m so used to life in Italy where even substituting an ingredient in a meal can often times be complicated, flat out refused or actually cause tension between you and the waiter..it's so odd (and sad) that in 2017 changing out one ingredient like cheese or meat can be so disrupting for them. It seems to be almost offensive to them.
In both Innsbruck and Switzerland potatoes seem to really be a staple. That was right up my alley cause I live off potatoes I really can't get enough of them! The two potato dishes I saw at most restaurants were called (hope I get this right) Gröstl and Röti. The dish here that I ordered is the Gröstl which is basically pan fried potatoes mixed with a variety of meat, vegetables and cheese.
They were kind enough to hold the cheese and meat and add sauteèd mushrooms, onions, bell peppers, tomatoes and spinach. This dish was seriously the highlight meal of my trip it was simply incredible. It also came with horseradish and mustard, with all the flavors going on their was a serious party going on in my mouth I was in heaven. I've never tasted mustard and horseradish like that before. The horseradish was freshly grated from the root and it was creamy and literally melted in my mouth.
If that wasn't enough I ordered a side of sauerkraut. It was different than what I've ever had in the States. It was much sweeter and almost creamy, but none-the-less perfection. I'm thinking that there must be different variations of it depending on the region or country you go to.
The most beautiful part of Innsbruck for me was the famous Old Town. The narrow streets are lined with outdoor cafès, quaint boutiques, craft shops and restaurants. Strolling through the historical cobblestone streets is like taking a stroll back in time. The intricate detailed Baroque architecture is so impressive. Some of the buildings go back as far as the 12th century!
One of the top sights to see in Old Town Innsbruck is the Golden Roof (seen below). It's lined with beautiful old merchants houses and is roofed with copper tiles. The windows are decorated with the most lovely flowers, it's quite the charming building.
This old square is filled with lovely historical buildings so make sure to walk around and explore around. One such is the Helblinghaus shown below. The decoratively gaudy, gorgeous building all the way to the right in the photo.
Apparently the Alps are surrounding this city but as you see from the photos it was so thick with gloomy clouds that it was barely noticeable that there were any mountains nearby. I can only imagine the beauty this place offers on a crisp clear sunny day.
The Town Tower (Stadtturm) is also on the top sights to see. Here you can look out over the rooftops of Innsbruck as the tower guards once did in the middle ages. There are stunning views once you reach the top unless it's cloudy and overcast like it was for us…boo!
Another must-see sight is the Cathedral of St. James built in the early 1700's. Inside highlights are the ceiling paintings, marble carvings and rich stucco work, it's magnificent.
Make sure to take a stroll through Maria Theresien Street. There's shopping and lots of outdoor cafès. One of my favorite things to do when I'm visiting new places is to sit down in the outdoor cafès and people watch and soak up the local culture this is definitely a fun place to do that.
Along this Piazza I stuck my head in a few cafès out of curiosity to see if any of them offered vegan desserts or options and there were a couple with seemingly really good ones. Unfortunately I didn't write the names down to share them here…I was rushing back to the car and totally didn't think, but there definitely are options so that's good to know.
The Triumphal Arc is a a well known monument I'd suggest seeing. It was built in the mid 1700's and there's some interesting history of the story of the erecting of this arc. I'll let you do you're own research on that but it's really fascinating to be walking down the streets of this old town and see this Roman looking arc in the middle of it. Probably an everyday event for a European or Roman but for an American it's surreal to see history right in the middle of the street just blaring out at you.
This town had so much to offer and so much history here to be learned I wish we had more than a day but it was enough to whet my appetite to know I definitely want to come back to this beautiful country and spend more time getting to know Austria better.
Innsbruck definitely did not disappoint. I hope you get to visit sometime in the near future and see the highlights and natural beauty of this town for yourself. Or maybe you've already been here before…if so I'd love to hear what were the highlights for you or if you found and delicious vegan eats here, please SHARE with us in the comments below!
On this trip we did two more day trips one to Lichtenstein and then off to Venice. Stay tuned for those! If you've traveled to any of these places I'd love to hear how your experience was so please share below in the comments and let us know!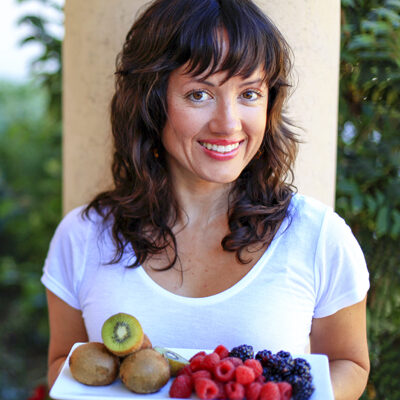 Hi, I'm Christine, thanks for stopping by! As a fibromyalgia thriver (symptom-free for over 10 years now thanks to diet and lifestyle changes), it is my passion to share the healing power of food.
As an RN and Holistic Nutrition Practitioner, it is my desire to empower you to take charge of your life.
Let's journey together to glowing health. Learn More
Your Health Transformation
Starts Here!
Sign up to get FREE healthy lifestyle tips and recipes!