Favorite Vegan Eats in Spokane
I recently visited family in Spokane and I was pleasantly surprised to see just how vegan-friendly this city is. I had amazing vegan eats at vegan restaurants and vegan-friendly restaurants. Having spent a month there, as a foodie I had plenty of time to check out most of the food spots I had anticipated to visit. There are a few that I learned about just before leaving so they're on my list for my next visit! But until then here are a list of my favorite spots in Spokane.
Boots Bakery is my favorite coffee shop slash brunch slash hangout with a friend over a cupcake and tea kinda place in Spokane. It has an eclectic and totally funky atmosphere that I absolutely love. The best part is that it offers not only all vegan but mostly gluten-free baked goods and savory dishes too.
I specifically came to check out their spiced pumpkin waffle and cupcakes. I had heard so much raving about them I had to see if they stood up to the hype. All I have to say is WOW! The pumpkin waffle filled the air with fall aromas of ginger, cinnamon and nutmeg as it arrived at my table. Topped with a brown sugar butter and maple syrup every bite was heaven in my mouth.
Imagine a warm slightly crispy waffle with a creamy maple-y butter melting in your mouth, my world just stopped for a moment and I had to take it all in. It was seriously so incredibly delicious. My mom who was just beginning her plant-based journey fell in love too. She was so happy to have found a great "Sunday brunch place" to come back to.
While the waffle was technically breakfast it was totally like a dessert at the same time. BUT, since it was really breakfast I figured it was perfectly appropriate to order an actual dessert to follow (insert winky face here). I ordered the gluten-free, vegan (duh) cherry chocolate cupcake.
I have to preface this saying in general, since having changed my diet I no longer have much of a desire to eat sweets. So, it's rare that I find much enjoyment in pastries. But this was perfection. Mind you I divided it into four's cause I really could only eat small portions of something sweet like this, but let me tell you it was perfect. The frosting wasn't overly sugary it was buttery and velvety and the cupcake was nice and fluffy not heavy like some gluten-free desserts can be.
This was hands down my favorite place to eat out. They have the best vegan pizza's I've tried. They also have gluten-free options and what I really liked was that their cheese is nut and rice based instead of soy so this was a huge plus for them. While they're known for their pizza they have a wonderful selection of all sorts of dishes to try, but if you haven't tried their pizza I highly recommend you do.
My personal favorite was Allie's Wild Mushroom Pizza pictured below. It's made with a garlic cashew cream sauce, carmelized onions, smoked nut cheese and scallions. My mouth is literally watering as I write this! Just order it I promise you'll love it!
Allie's Veggie Pizza, shown below was quite good too. It didn't initially sound appetizing to me but after trying it we all agreed that it was worth the order. It's made with a walnut-kale pesto, topped with veggies and olives and a balsamic drizzle, yum! I topped mine with nutritional yeast which they have sitting out at each table and it topped it off wonderfully.
My second favorite was the Cheese Pizza made with a marinara sauce and a cashew based cheese. I loved the simplicity of a good 'ol cheese pizza It totally brought me back to my Brooklyn days, before being vegan, when I'd live off New York style cheese pizza. This place is a must try!
One of my favorite food is Ethiopian Cuisine. My best friend was Eritrean and she introduced it to me and would teach me how to cook it and I fell in love with the spice and rich flavors. I love the Injera bread, seen below, and the fact that it's served family style on it, that's eaten with you hands.
The plate shown below was just the base for one to two people but you can fill it up with other options like greens or salad and it's really filling. Queen of Sheba has a whole vegan section to choose from, it makes a for a great place to go when you're in a group with non-vegans so that everyone's sure to be satisfied. I oredered the Vegetarian combo plate, below, and it was delicious and satisfying for either one hungry person or two less hungry people.
Mizuna is another favorite restaurant for me when I come to Spokane. Situated in the heart of downtown. With its exposed brick walls, wood floors and low lighting it has a charm of a historical downtown ambiance. Mizuna has several vegan options. Their dishes are creative and made with fresh local seasonal ingredients
I always start off with their Shiitake Mushroom Lettuce Wraps along with the Greek Platter, they're always a hit for whoever is dining with us. Many times I simply make the two my meal. But they have many delicious options to choose from and they've even been kind enough to "veganize" a dish for me so that's an option too. You really can't go wrong here.
Cascadia is a great place to go for vegan "junk food". I'm all about eating whole, fresh foods and that's what I definitely feel best eating but when on vacation a girls' gotta get her grub on! And I totally had my fill here. The great part about this restaurant is that while they're not a strictly vegan locale their menu has a wide variety of vegan food to choose from you certainly won't have any boring food here.
It's always nice when a group of friends or family can all go out to eat and have their choice of foods to eat. I get so tired of always having to choose the token salad on the menu cause I'm the only vegan and it's always assumed that as long as I have a salad it'll be good. Don't get me wrong I love my salads, but when I go out to eat it'd be nice to have some legit options on the menu and this place was perfect.
Cascadia was our regular choice of places to eat at since it contented all of us vegans and not. Their vegan bean beet burger was another pleaser. I wasn't sure how I was going to like it because while I do like beets, if their earthy flavor comes through too strongly it can be a turn off. But not this burger, in fact I split it with my husband and he enjoyed it too…which you must know by now means a lot!
I went for a complete splurge with their garlic fries and let me just tell you…OH…MY…GOODNESS, if you're a garlic lover you just must try them. They're crispy, loaded with minced garlic and parsley, and topped with a garlic aioli sauce that was to LIVE for these are an absolute must!
It's a huge size portion so you'll probably want to split them like my mom and did. Mind you we like to eat and we almost couldn't finish them. We tried to balance out our splurge by ordering a big salad to make up for it though hehe.
They also have the best vegan Ranch salad dressing. We found out later that they sell it there too so my mom picked up a bottle and has been loving it on her salads and also as a veggie dip. SO if you order a salad make sure to try the ranch dressing, it's delish!
My sixth favorite restaurant in Spokane was Sushi Dot Com. When going in groups of mixed vegan and non I love going out to eat for Sushi. You're guaranteed at least veggie rolls which are yummy and filling and they usually have several other options to choose from as well. Once again it just makes for a much more enjoyable night when the vegan doesn't get stuck eating a wilted over priced salad while everyone else eats to their fill several different plates.
I really enjoyed the veggie sushi rolls here because most places just have a Cucumber Roll or an Avocado Roll, which are wonderful but it's nice to change it up too. Sushidotcom had a lovely veggie roll made with lettuce, avocado, cucumber, carrots and sesame seeds and they were delicious and filling. Everything was so fresh and tasty we all enjoyed our food here.
So there you have my favorite six vegan and vegan-friendly restaurants in Spokane. There'll will definitely be more to add to this list once I go back to visit again and check out more, which I can't wait to do! Do you have a favorite vegan restaurant in Spokane? If so please let us know in the comments below along with any places you recommend!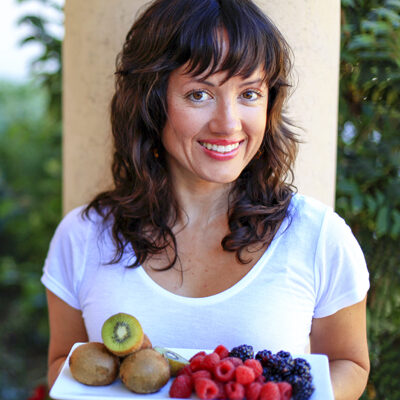 Hi, I'm Christine, thanks for stopping by! As a fibromyalgia thriver (symptom-free for over 10 years now thanks to diet and lifestyle changes), it is my passion to share the healing power of food.
As an RN and Holistic Nutrition Practitioner, it is my desire to empower you to take charge of your life.
Let's journey together to glowing health. Learn More
Your Health Transformation
Starts Here!
Sign up to get FREE healthy lifestyle tips and recipes!