Skinny Pasta Alfredo (Gluten-Free/Vegan)
This Pasta Alfredo dish has been such a hit around here, that it's time I share it with you! For the last month I've been visiting family in Washington and it's been cold, snowy and overcast out. I can count on one hand the numbers of days we saw sun. That called for some soul warming, comfort food and this Alfredo sauce was just that!
If you watch my Instagram stories then you probably saw that my mom went 100% plant-based since I came to visit. She's always teetered around being plant-based but has never been able to stick with it. This time she was ready and she's committed to it and I'm so proud of her!
One of the key concerns for her was finding comfort foods and not feeling like she's being deprived. So, during the month I've been experimenting in the kitchen finding "go-to" recipes of all sorts that she'll really enjoy. I might add she's one tough critic. She wants to eat healthy without compromising any taste from the original recipe and I always enjoy the challenge!
Her primary motivation for changing her diet is for health reasons, but in the process hopes to lose weight. Coming from an Italian family, growing up on Italian food she is a huge foodie (I guess that's where I get it from lol). She loves her some Italian food and lots of it.
Keeping in mind that she loves to eat I've been creating recipes that are plant-based, low in fat and low calories. With plant-based low fat recipes you can eat as much as you want until satisfied without feeling guilty  or regretful after . How can you not like the idea of that??
As I said before when it comes to Italian recipes, especially with pasta, I have to step my game up for my mom to like it. I've had to revamp this pasta Alfredo recipe a few times to get it just right. But it was so worth! When she finally tried this she absolutely loved it, so I knew this was gonna be good. If she loves it you will too!
Pasta Alfredo normally is rich and heavy with cream and butter. It's full of fat and high in calories. It may satisfy the taste buds for the moment but afterwards it leaves you feeling heavy and weighed down. But this Skinny Pasta Alfredo has the rich creamy feel without all the unwanted ingredients.
I used Banza Pasta which is made with chickpea flour so it's high in protein and gluten-free, which is a win win situation! At first I was leary as to how good this pasta can be, it didn't strike me as appealing but I was willing to give it a try. And I'm so glad I did, I loved it! It has such a hearty texture so much better than rice pasta which usually starts disintegrating in the pot before it's even ready.
I've been using Banza pasta in my cooking classes and everyone has enjoyed it. They all agreed it's a much better alternative to rice pasta. No offense to the rice pasta, we're so glad gluten-free options of all sorts exist but the hearty texture of Banza pasta cannot be matched.
I added some peas which give this dish even more heartiness, protein, and a lovely pop of color but it's totally optional. This pasta Alfredo dish is a perfect example that on a plant-based diet there is plenty of protein provided by the food itself. You don't need all these protein powder supplements as long as you are getting a wide variety of plant foods in your diet and eating enough calories. All living foods have protein in them, it's just a matter of eating enough of them!
This particular brand of pasta has 25 grams of protein per serving so if you're holding back from eating pasta because you don't want the carbs then this pasta is a good option for you. But of course you can use the pasta of your choice with this recipe.
The sauce serves (depending on how hungry you are) at least 3-4 portions. I really don't like to give portion measurements because on the plant based diet you can eat until satisfied. For some that can be 80 grams of pasta or if you're like me that's 200 grams of pasta…your girl likes to eat (insert smiley face)!
This dish is also so versatile. You can add steamed spinach or kale instead of peas, chopped sun-dried tomatoes or sauteed mushrooms. The sauce will last up to 5 days in an airtight container stored in the fridge. It may last a couple days more but it's never lasted longer than that in my house!
This is a great meal prep for during the week to have on hand. You can prepare it on Sunday night and keep it on hand for during the week-night dinners. All you have to do when you come home is boil the pasta. It doesn't get easier than that!
Banza Pasta comes in so many shapes and sizes but my favorite other than the ziti used in this pasta Alfredo dish are the pin wheels, they're so cute and fun to eat. I used them in making a mac'n cheese for my nephew and he loved them, they're fun to eat!
If you get a chance to make this, I'd love to hear your comments and/or feedback on it. And if it's a dish you plan on making, be sure to let me know in the comments down below! Enjoy!
Servings 4 portions
Recipe:
4.5 cups cauliflower florets
1/2 cup almond milk* (or plant milk of choice)
3 tablespoons nutritional yeast
2 large cloves garlic, peeled and minced
2 tablespoons avocado oil*
1.5 tablespoons lemon juice
1 teaspoon onion powder
1/8 teaspoon pepper
1/2 teaspoon Himalyan salt
Pasta of choice (I used Banza)
optional 1 cup frozen peas thawed out
1) In a medium-large  pot of water to boil, add your desired amount of pasta and boil for the time instructed on the package. Drain pasta.
While the pasta is cooking:
1) In a medium size pot steam the cauliflower florets using a steamer adding just enough water to reach the bottom of the steamer, cooking until fork tender (about 10  minutes). 2) In the meantime,  saute the minced garlic in oil until tender and fragrant, not browned. 3) Once ready, drain the the cauliflower and transfer it into a blender with the garlic and the rest of the ingredients. 4) Blend on high until smooth and creamy.
Once pasta is drained 5) Add cauliflower sauce into the same pot and heat over medium flame for 2 minutes mixing the pasta in well with the sauce.
*NOTE: Make sure the milk you use is un-sweetened. Avocado oil can be substituted with oil of choice. I use avocado oil since it has a high heat resistance for cooking.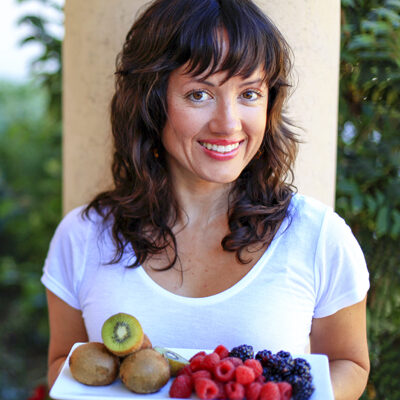 Hi, I'm Christine, thanks for stopping by! As a fibromyalgia thriver (symptom-free for over 10 years now thanks to diet and lifestyle changes), it is my passion to share the healing power of food.
As an RN and Holistic Nutrition Practitioner, it is my desire to empower you to take charge of your life.
Let's journey together to glowing health. Learn More
Your Health Transformation
Starts Here!
Sign up to get FREE healthy lifestyle tips and recipes!