Vegan Road Trip from La Spezia to St. Moritz
These past two months have been a whirlwind of guests and travel, both of which I love! I'm excited to share with you over the course of the next few posts my travels including the beautiful sights, vegan eats and where we stayed.
Since having moved here I've finally gotten to explore travel outside of Italy and I'm loving it. You know how it is when you're a traveler, you get a taste and you just gotta have more…at least for me, my appetite for travel is never satiated! The beauty of Europe is that it's so easy to travel in a relatively short time to so many countries and experience a whole new world of culture, language and food.
This time we did a road trip from La Spezia (where I live) to St. Moritz, Switzerland where we stayed for four nights.  We used that as our base and from there explored nearby countries and sights to see.
In my hard core travel days all I needed was a backpack and I was off. Now as a raw vegan all I need is my Vitamix and I'm off, lol! Let's just say when ever I road trip it, the first items I pack are my Vitamix, my fruit and snacks and I'm all set.
Thankfully on this trip I had my mom (above) with me who enjoys eating healthy for the most part so we had each others support to keep it up throughout our trip. I keep up my lifestyle with or without support but I'd much rather have support, because… who doesn't?
We packed several bunches of bananas and fruit for snacks and to make our morning smoothies. Also  nuts, trail mix,  and I made some treats to satisfy the munchies along the way. Oh and water, keeping hydrated is so important. We also brought food for dinner like all the  makings for a salad, gluten-free pasta, sauce etc.
I  prefer to be prepared in advance for several reasons. One, we have a car that we can easily bring these extra items without problem so having my food already taken cared of makes it so much simpler. Two, St. Moritz is quite expensive, so it saves money. Three, unless there are restaurants with specific vegan menus I'd much rather eat my own food then go out. It's usually cheaper, much more filling and enjoyable.
The trip from La Spezia to St. Moritz is about six hours, so we broke it up stopping in Lake Como to enjoy a lunch by the gorgeous lake. Thanks to a wrong turn by mistake we stumbled upon this amazing Ristorante Vapore nestled on the shore of the quaint town of Torno. It's totally off the beaten path and had the most amazing view.
They didn't have a vegan menu but they made a nice salad for me and I asked for a plate of roasted potatoes. Potatoes are one of my go to plates when there's not much else because well I'm obsessed with potatoes and it's satisfying. The hotel Vapore is very historical and impressive it makes for a nice memory for your trip.
We actually stayed just outside St. Moritz in a quaint town called Casaccia and thanks to Air BnB we found the cutest most characteristic house to stay in that really made our stay in Switzerland memorable (pictured below). Click here for more details of the house.
The owner was wonderful, made us feel so welcomed and totally prepared the house for anything we could possibly need. The views from our bedroom windows were amazing see below..
The view from our bedroom window.
Nearby neighbors.
While we loved St. Moritz the highlight for us was really Casaccia because it was so different from anything we've seen. I felt like I was living a scene out of the movie Heidi! We couldn't get enough of it.
Photos of the Village
St. Moritz is a famous luxury alpine ski resort town overlooking Lake St. Moritz (seen below) With numerous luxury hotels and high-end shops this town is known for elegance and class.
It's even hosted the Olympics a couple of times. If you're into outdoor sports like hiking, skiing or snowboarding this is the town to visit. The nature all around is breathtaking both in summer and winter.
By the way, if you get to see lake St. Moritz on a perfectly clear sunny day it is the most stunning turquoise green I have ever seen, pictures simply could not do it justice.
I have to say that while Switzerland honestly was never on my list of 'must see' places, it took us all by surprise, leaving us breathless with it's stunning views, emerald green rolling hills, waterfalls cascading from the snow capped mountains, the picturesque villages that took us back in time and the pristine nature it left us all wanting more. It definitely was not enough time!
One of the things that left us so impressed was how clean Switzerland is. There was not one pice of trash on the ground the whole time we were there. I don't know how they do it but I wish they'd pass their secret on to Italy which is noticeably dirtier and trash ridden (love you Italy!).
The other thing I just absolutely appreciated was that everywhere you go there are public bathrooms placed around the city and they are flawlessly maintained and profumed…is that a word? I've been in Italy too long hehe. Not to mention they all had soap, toilet paper AND paper towels, all of which tend to be a luxury to have in Italian public bathrooms, so this was real bonus points here!
The charm of castles nestled in the side of the mountain with the villages down below, flower boxes decorating each window sill, the wooden shutters and the artistic details on the buildings felt almost like out of a fairytale.
One of the reasons we chose St. Moritz is because it's a central location to do day trips from there. It's near Austria, Germany, Lichtenstein and many other cities in Switzerland which is what we did during the week. I'll be sharing each of those in posts to come.
Now for the food. The center of St. Moritz had lovely restaurants. I was so thrilled to find Hauser Restaurant that has a specific Vegetarian/Vegan menu. We ate there several times and it was wonderful. I had my  delicious vegan cuisine..not just a mix of side dishes I usually order when out to eat, and everyone had their meat dishes as well. We were all happily enjoying the food. I only have a couple of food pics from there but everything I tried was delicious.
Green Vegetable Curry with Basmati Rice.
Asian Noodle Soup with vegetables, Shiitake mushrooms, ginger and lemon grass.
Side dish of boiled potatoes with garlic and parsley (not from Hauser Restaurant)
I hope you enjoyed coming along with me on our trip to St. Moritz, I enjoyed having you! If you've been to St. Moritz or Switzerland let us know in the comments below and share your thoughts with us. We'd love to hear what you thought. And if this looks like a place you'd like to visit let us know down below.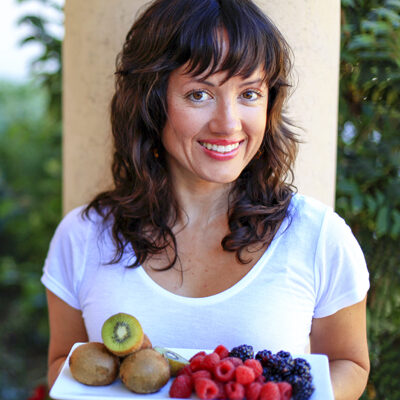 Hi, I'm Christine, thanks for stopping by! As a fibromyalgia thriver (symptom-free for over 10 years now thanks to diet and lifestyle changes), it is my passion to share the healing power of food.
As an RN and Holistic Nutrition Practitioner, it is my desire to empower you to take charge of your life.
Let's journey together to glowing health. Learn More
Your Health Transformation
Starts Here!
Sign up to get FREE healthy lifestyle tips and recipes!