Herbed Sweet Potato Quinoa Recipe
Winter is finally here, and boy is it cold! Even here in Los Angeles we have had our cold spell, leaving me no choice but to pull out my  New York coats and boots.  I thought for sure that once I moved back to Cali from Brooklyn I would never see them again! Or, at least I was hoping haha.  I can't complain though, in general we have it really good here when it comes to weather.
This herbed sweet potato quinoa recipe is perfect for a nice winter evening meal.  This is a dish I make my family and they love it.  I really enjoy making this because since quinoa is just as good eaten at room temperature, I make enough so that I can pack it in my stainless steal container and bring it to work.  Being a nurse always on my feet, I need to make sure I have a good, hearty meal and this quinoa salad is perfect!
Right now I am on a cranberry, pomegranate kick.  These gorgeous red jewels are not not only a delightful addition to many meals, salads or smoothies but they are literally packed densely with vital nutrients.
This recipe is quite simple, but I really  love it because it is so versatile.  You can add different veggie combinations, different herbs and spices each time.    These sweet potatoes add a nice sweetness to contrast the tart flavors of the pomegranate and cranberries.  It makes for a mouth-watering combination.
This dish is one that the whole family can enjoy, and is a great dish to bring to a party.  Whenever we are invited out to friends houses for dinner, I like to ask if I can contribute a dish.  By bringing a dish I am assured to have something to eat and I get to share my healthy food with my friends.
Quinoa is so quick and easy to cook.  I'll let you in on my little trick for the perfect fluffy quinoa.  After simmering it for about 12 minutes I turn off the flame leaving it covered. I don't open it for another ten minutes.  I have yet to have it go wrong doing it that way.  It is always nice and fluffy.  You can tell when quinoa is ready because it will have these little white rings around it as you can see here.
I usually make a batch of quinoa during the week and leave it in my fridge to pull from.  You can add fresh spinach to it and make a spinach quinoa salad.  It is really helpful having it prepared in advance.  It stores for three days well, and can be eaten room temperature or  reheated.
Servings 2 large portions
Recipe:
3 1/2 cups peeled, cubed sweet potatoes (about 3 sweet medium potatoes)
1 cup quinoa ( I used the tricolor quinoa, but it's optional)
2 cups vegetable broth
2 Tbsp unrefined organic coconut oil
1/2 tsp dried Thyme
1/8 tsp cayenne pepper
1 pomegranate, seeds of
1/2 cup dried un-sulphured cranberries
Peel and cube the sweet potatoes. Add coconut oil, thyme and cayenne and toss to combine well.  In a medium size pan "sauté" in minimal amount of water (about 1/4 cup).  Cover the pan and let cook on a low flame for about 25 minutes.  NOTE: I just add the water little by little as it gets absorbed, so as not to add an excess amount.
Rinse the quinoa well, drain.  In a saucepan bring vegetable broth to a boil, add quinoa.  Reduce heat to low, cover and simmer for about 12 minutes.  Keep covered for another ten minutes with flame off or until fluffy.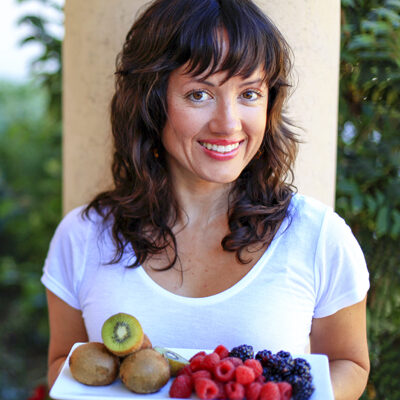 Hi, I'm Christine, thanks for stopping by! As a fibromyalgia thriver (symptom-free for over 10 years now thanks to diet and lifestyle changes), it is my passion to share the healing power of food.
As an RN and Holistic Nutrition Practitioner, it is my desire to empower you to take charge of your life.
Let's journey together to glowing health. Learn More
Your Health Transformation
Starts Here!
Sign up to get FREE healthy lifestyle tips and recipes!