Heirloom Tomato Salad with Basil Avocado Dressing
Today is day seven of our 30 day raw food challenge. One week complete! Today I'm sharing HP's heirloom tomato salad with basil avocado dressing recipe. Tomatoes are in season and are amazingly juicy, savory and salty right now. I could make a meal of eating them straight off the vine, they're so good!
This is an oil-free and salt-free dressing but full of flavor with fresh, mouth-watering ingredients. It's made with lemon juice, fresh herbs like basil,green onion and garlic so I don't think you can ever go wrong. Then add some creamy avocado as the base and bam that's one delicious dressing and without all the salt and oil too, how great is that?
Make sure to check out HP's progress of healing red skin syndrome during this challenge and her food diary of all the raw foods she's eating. She shares her tips and tricks of eating raw in these 30 days that you may find very beneficial. Plus, if you're looking for some raw food inspiration she shares a lot of great ideas. This week update is here.
Basil Avocado Dressing:
1 cup Basil
1/2 cup lemon juice
1/2 avocado
6 red grapes
1 clove garlic
2 green onions (only white part)
(optional) 1/2 teaspoon pink salt
Blend together til smooth
3 medium-sized heirloom tomatoes – prepare into thick 1/3″ slices
1 cup cherry tomatoes or baby heirloom tomatoes – slice in half
Arrange on a platter.
Drizzle Basil dressing over slices.
Place remainder of dressing in a small dish on the platter.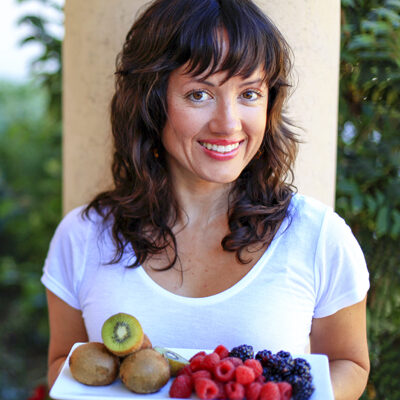 Hi, I'm Christine, thanks for stopping by! As a fibromyalgia thriver (symptom-free for over 10 years now thanks to diet and lifestyle changes), it is my passion to share the healing power of food.
As an RN and Holistic Nutrition Practitioner, it is my desire to empower you to take charge of your life.
Let's journey together to glowing health. Learn More
Your Health Transformation
Starts Here!
Sign up to get FREE healthy lifestyle tips and recipes!