Basil Cashew Cheeze Recipe
I'm sharing this basil cashew cheese recipe from HP's food journal this week. This is a great dairy-free alternative to cheese and so much better for you. It's great because it's so versatile too. You can substitute basil with any fresh herb like thyme or chives or omit herbs altogether and have a simple cashew cheeze spread. But, really who doesn't love fresh basil??
It's so simple to make, it takes literally five minutes and you have yourself a great snack.
If you want to get really creative and make a fun appetizer dish for a dinner party that'll really impress people check out HP's Melon Basil Cheeze Rolls that she made during last years raw food challenge. They're sweet and savory, and they look absolutely mouth watering!
Basil Cashew Cheeze Recipe:
1 cup of raw cashews (soak overnight)
1 large handful of basil
1 clove of garlic
1/2 teaspoon of salt
pinch of black pepper
1 lemon, juice of
Directions: In a food processor blend  the above ingredients until creamy. Scoop into a bowl. and serve on crackers, as a dip or even in salads for extra flavor.
This cheeze will keep in the fridge for about five days.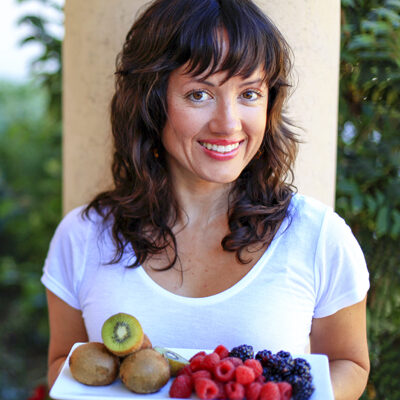 Hi, I'm Christine, thanks for stopping by! As a fibromyalgia thriver (symptom-free for over 10 years now thanks to diet and lifestyle changes), it is my passion to share the healing power of food.
As an RN and Holistic Nutrition Practitioner, it is my desire to empower you to take charge of your life.
Let's journey together to glowing health. Learn More
Your Health Transformation
Starts Here!
Sign up to get FREE healthy lifestyle tips and recipes!