Guest Post: Days 15/16 Raw Food Challenge + Garlic Flaxseed Crackers
I want to say that my meals on Monday and today were a lot more exciting than they were. But to be honest I've hit the (for all you Penny fans) big neck rolling "Bored" with my diet. Partly because I keep attending events that are S.A.D. focused and I haven't had time to prep to bring things over, nor have I been home much. Also "Lady's days" are over and I am usually just not hungry for like a couple of days. (Probably because I eat like a bear about to hibernate "pre-lady's days". Haha!) So please pardon my simple fare, but sometimes simple is perfect.
Day 15 and 16 of 30 Day Raw Vegan Challenge
Monday morning we did a bit of volunteer work again. BREAKFAST  was a Banana and an Orange. I did cheat a bit nd have some Chinese Jasmine Green Tea because I could not refuse my friend's hospitality. It was so good too! 
Lunch was a 40oz Fresh Juice: 2 Sweet Potatoes, 4 cups Baby Kale, 2 Lemons (peeled), 1 Orange (peeled) and the I cut it with a bit of Purified Water.
I used the left over pulp to make "Juice Pulp Crackers". Everytime I make crackers I do it a bit different, so here is what I threw together:
Raw Flaxseed (1 Cup that I ground myself in a coffee grinder so it was fresh)
Raw Buckwheat Groats (1 Cup that I ground myself in a coffee grinder so it was fresh)
Purified Water (1 Cup)
Juice Pulp (2 Cups from the above Juice recipe. Be sure to remove all the large chunks as it will ruin the cracker)
Garlic (2 TBS Powder)
Celery Seed (1/2 oz, sorry that's what the bag said)
Pink Salt (1/2 tsp)
Mix all the ingredients together. Spread out onto a parchment paper lined Food Dehydrator tray. Be sure to spread it evenly and about a ¼ inch thick. Place trays (it made 2 trays) into Dehydrator at 110 degrees. It will take about 8-10 hours depending on your dehydrator.
Tip: After about 4 hours of dehydrating, take the cracker out, flip onto the tray and remove the parchment paper. Next score lines of the cracker shape you want. Place back in the dehydrator until done to your liking (another 4-6 hours). Remove from trays and easily break or use a pizza cutter to separate crackers. 
I didn't follow the above Tip and so my crackers curled up on the edges and were kinda funky shapes when I cut them with a pizza cutter. But they taste good anyway.
We went out to a friends' homes during the evening. I ate about a Cup of walnuts, ½ of a Honeydew Melon and drank Water all evening. I had brought other  goodies with me but I just wasn't hungry.
TODAY was even less exciting. I'm so sorry.  For Brunch I had about a 45 oz Green Smoothie today (as posted on Instagram). Which is what I will share with you now:
Mango (1 ½ cup frozen)
Orange (1 peeled and chopped)
Orange (juice of 2)
Mixed Baby Greens (1 Cup)
Cashew Butter (2 TBSP)
Superfood Powder (2 TBSP)
Ginger (2 inch chunk peeled)
Coconut Water (2 cups)
Blend until smooth and enjoy!
I Snacked on some Cucumbers today and a Banana. But wasn't that hungry. Maybe I will be later. 
Today I went food shopping and prepped for making my fresh Raw Mustard recipe, Christine's recipe for Tuna Salad and a different version of Christine's Raw Mayo Recipe tomorrow. So I guess that means I'm planning to be really hungry tomorrow. 
You'll just have to check back with us to see what's been happening in my kitchen tomorrow. Exciting stuff coming up!
Find Heather on Facebook, Instagram, Pinterest and Twitter @hpesthetics. For more information on TSA/RSS, check out www.itsan.org, the International Topical Steroid Addiction Network. You can also read about Heather Petersen's experience at: www.eczemancipated.com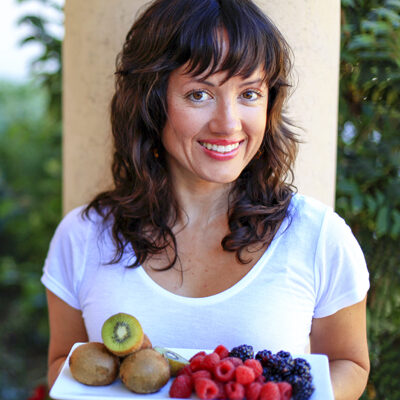 Hi, I'm Christine, thanks for stopping by! As a fibromyalgia thriver (symptom-free for over 10 years now thanks to diet and lifestyle changes), it is my passion to share the healing power of food.
As an RN and Holistic Nutrition Practitioner, it is my desire to empower you to take charge of your life.
Let's journey together to glowing health. Learn More
Your Health Transformation
Starts Here!
Sign up to get FREE healthy lifestyle tips and recipes!