Guest Post: Day 29 + Rhubarb Berry Smoothie
If I can go Raw Vegan for 29 days straight, ANYONE can do it for 1 Day. Who's with us?
One thing I wanted to comment on is about the condiments, sweet treats, crackers, flatbreads and sauces I've been making. When I make these things, I try to have enough to last from 1 week up to 3 months. I do not eat these things all in one sitting or even in one day. If I want something to last longer than a week I usually freeze it and take out small amounts as needed. These things, generally, defrost very well and last in the fridge for around a week. I like to use citrus in my frostings and sweet treats because I love the tart flavor. But ALSO because citric acid (from fruit like Lemon and Lime) is a natural preservative. So things with Lemon and Lime generally will last in the refrigerator for a few weeks as long as it is air tight sealed in the refrigerator.
Please don't forget to check out the www.itsan.org website for more information about Topical Corticosteroid Addiction. It is usually misdiagnosed as Atopic Dermatitis (Eczema, Psoriasis, Random Rashes, etc.) and could take years before someone realizes that the treatment for their problem becomes the cause. I suffered for about 6/7 years before I found ITSAN and got a proper diagnosis. There is no need for anyone to suffer through Topical Corticosteroid Withdrawals. 
DAY 29 of 30 Day Raw Vegan Detox Challenge
Big Bunch of Green Grapes for breakfast.
Rhubarb Berry Smoothie for Lunch.
Rhubarb (8 inch stalk)
Dates (4 medjool pitted)
Frozen Mixed Berries (1 Cup, strawberries alone would be fantastic)
Orange (1 peeled)
Orange (juice of 2)
Throw in Vitamix and blend til smooth. It was like drinking Strawberry Rhubarb pie. I actually made mine way too sweet and adjusted the Date amount based on how sweet mine was. (I used 8 dates and it was so sweet I had to cut it with Lime juice. HAHA!)
I was excited about the Rhubarb Smoothie because I had never done anything with Rhubarb in a raw recipe. Immediately I realized its' potential for sweet and savory recipes. I decided to play around a bit and I took 1 cup of the smoothie and turn it into a Rhubarb Mustard Limagrette Dressing for my Green Salad. It needs a bit of work, but if you like Mustardy things, as I do, you will enjoy this Dressing.
Rhubarb Smoothie (1 cup, see above)
Raw Mustard (1/2 tbsp, see recipe from earlier in the month)
Raw Agave Syrup (2 tbsp, you may want to add more so keep tasting)
Pink Salt (1/2 tsp)
Cracked Black Pepper (1/4 tsp)
Lime (juice of 4)
Blend in the Vitamix til smooth. 
Comment: The Raw Mustard is spicy – use your judgment with the amounts of each. The Rhubarb is bitter so the Raw Agave Syrup (or more Medjool Dates) is going to mellow both the bitterness. The Lime will give it that vinegar kick but if you want it more vinegary then substitute Lemons (only 2-3 lemons though as they are usually juicier than the limes). 
The Green Salad I had for dinner was made of Arugula, Carrots, Pink Lady Apple and Green Peas. I had a couple of tablespoons of Guacamole and Hummus with the salad. 
For Dessert I finished the Lemon Frosting I had left over from the Morning Glory cake and slathered my Sweet Crackers with it. I had made the Sweet Crackers last week. 
Find Heather on Facebook, Instagram, Pinterest and Twitter @hpesthetics. For more information on TSA/RSS, check out www.itsan.org, the International Topical Steroid Addiction Network. You can also read about Heather Petersen's experience at: www.eczemancipated.com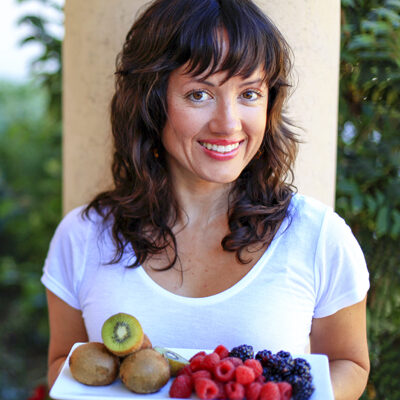 Hi, I'm Christine, thanks for stopping by! As a fibromyalgia thriver (symptom-free for over 10 years now thanks to diet and lifestyle changes), it is my passion to share the healing power of food.
As an RN and Holistic Nutrition Practitioner, it is my desire to empower you to take charge of your life.
Let's journey together to glowing health. Learn More
Your Health Transformation
Starts Here!
Sign up to get FREE healthy lifestyle tips and recipes!