Gluten-Free Sweet Potato Chocolate Bars
If you're on lockdown right now like we are in Italy, then you probably are having a lots of food cravings. Being confined in the house all day i find myself with the munchies making a recurrent trip to the pantry and fridge to browse through what I can nibble on. I mean, we can't leave the house, can't have company, what else are you gonna do if you're not eating? I realized quickly that I needed to come up with some healthy, but delicious, satisfying snacks. That's when these gluten-free sweet potato chocolate bars were born.
As soon as I heard we were going to be on lockdown I ran to the store picked up the ingredients and  made a couple of batches of these. I made extra because I love these type of gluten-free bars for breakfast, snacks or when I have a sweet tooth so I wanted to be prepared.
I love these bars not only because they're delicious and so satisfying, but they're also versatile. By swapping out  just a couple of ingredients you can create a whole recipe. For example, instead of sweet potatoes you can use mashed banana and make a banana bread adding spices accordingly.
I love to eat these as a mid-morning snack with a cup of spice tea, or a glass of (plant) milk warmed up with a little bit of cinnamon in it…mmm talk about comforting.
These bars are:
-GLUTEN-FREE
-VEGAN
-DAIRY-FREE
-NO REFINED SUGAR
-EASY TO MAKE AND STORE
-TOTALLY DELICIOUS
These sweet potato bars are so easy to make and you can make a couple of batches freezing some of them to have on hand later which saves time and extra energy and clean up time. I know we're on lockdown but I'm always looking for ways to save on clean up time!
I love that these days there are so many gluten-free options with baking, you don't have to feel like you're missing out on anything. We have all the variety and options we could want. And it's such a beautiful thing to have a little indulgence and not worry about the effects after of feeling sick or in pain. These bars are healthy, yummy and totally good for you so no need to feel guilty if you have a bar or two or three…lol.
If you get a chance to make them make sure to leave me a comment below and let me know how you liked them. I always love hearing your feedback! And if you're on instagram make sure to tag me with your photos of them using the hashtag #justglowingwithhealth or tagging me at @justglowingwithhealth so I can see your recreations of my recipes!
Recipe:
Servings 9 bars
2 cups gluten-free oat flour*
1/2 cup sweet potato puree**
1 teaspoon baking soda
1/2 teaspoon cinnamon
1/2 cup maple syrup (or liquid sweetener of choice)
1/2 cup yogurt, (I used vanilla flavored soy yogurt)
1/2 cup chocolate chips
1/3 cup coconut oil
optional 1 teaspoon vanilla extract
*For the oat flour I simply used whole oats and ground them into a flour using a coffee bean grinder.
**I used a sweet potato, peeled it and steamed it until mashable
Instructions:
Preheat oven to 350 degrees. using coconut oil grease a loaf pan, or line with parchment paper. In a bowl combine dry ingredients, in a separate bowl whisk liquid ingredients then pour wet into dry ingredients, stir to form a batter. Pour into the pan evenly. Bake for 40 minutes, when done turn the heat off, and without opening the oven door keep inside to cool down for another ten minutes. Let cool completely, then serve.
Any leftovers can be sliced and frozen for up to a month.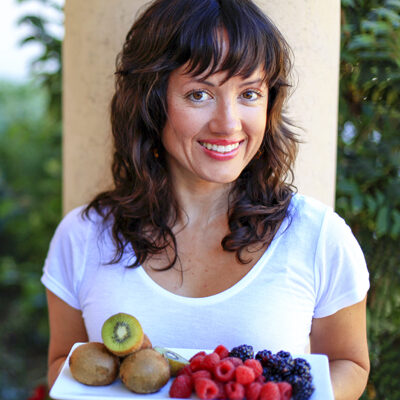 Hi, I'm Christine, thanks for stopping by! As a fibromyalgia thriver (symptom-free for over 10 years now thanks to diet and lifestyle changes), it is my passion to share the healing power of food.
As an RN and Holistic Nutrition Practitioner, it is my desire to empower you to take charge of your life.
Let's journey together to glowing health. Learn More
Your Health Transformation
Starts Here!
Sign up to get FREE healthy lifestyle tips and recipes!