4 Ingredient Thumbprint Cookies (Gluten-Free)
These 4 ingredient thumbprint cookies are soft, slightly crispy on the outside and chewy on the inside. They're delicious and will totally satisfy any sweet tooth. They require minimal time in the kitchen and minimal ingredients. They're gluten-free, vegan, grain-free and dairy-free and totally good for you! What's not to love about them?
I've been on a baking spree lately. And if you know me then you know how I'm such a cookie fiend! As one who does not enjoy spending a lot of time in the kitchen I'm always challenging myself to create the simplest recipes without compromising taste. My 4 ingredient thumbprint cookies are just that simple, easy AND delicious!
This recipe was born when our friends here who are "contadini", which are basically farmers who grow there own food and make most of their food from scratch, gifted us a bunch of home made jam. I've never been into jam but when I took a tiny spoonful just to try it, I was left with my mouth wide open, in amazement. I had never tasted anything so delectable. I was like biting into the actual fruit with actual chunks of the fruit in it. When I get a sweet tooth I'll literally take a spoonful it's so good.
I didn't know what to do with all these bottles of jam so I started thinking of recipes I could create using jam. The next on my list to make is una crostata di marmellata. It's basically an Italian pie filled with jam it's so yummy. I'm still trying to figure out the gluten free base for that. So, in the mean time I'm baking these thumbprint cookies on the regular!
INGREDIENT SUBSTITUTIONS:
ALMOND FLOUR: I ground blanched almonds in a coffee bean grinder, I prefer the texture compared to store bought. I've tried substituting with oat and spelt flour, and to be honest it was good but definitely not as good as with almond flour. The texture was a little bit heavier, which I didn't care for. I have tried ground cashews and that was just as delicious as the original recipe.
MAPLE SYRUP: This can be be substituted with liquid sweetener of choice.
JAM: I used home made jam. look at the ingredients and try Not everyone has access to that so make sure to opt for one that is naturally sweetened or that has minimal sugar as possible.
I've been experimenting a lot with different gluten-free flour and have discovered a couple of things. ONE, that I prefer to grind my own flour using grinding down the whole food source, for example making almond flour using ground blanched almonds. I prefer the texture compared to those found in stores. And TWO, I really like baking with almond and oat flour.
For these thumbprint cookies I used almond flour. I experimented with all different types of flour and this was by far my favorite. If you're like me and don't have the blender for specifically blending it into flour, you can use a coffee bean grinder and that works wonderfully. I got mine at a second hand store for a couple bucks and it's lasted years, so there's no need to spend a lot of money.
But enough about that let's talk about these 4 ingredient thumbprint cookies shall we. These literally take five minutes or less to prepare and just four simple ingredients. Make sure to store them in an air-tight container so they don't get soft. They last up to 7-10 days, although to be honest I run out of the in just a couple of days so you probably won't even make it that long!
Makes 10 cookies
Recipe:
1.5 cups almond flour*
3 tablespoons maple syrup
1.5 tablespoons coconut oil
Jam of choice
Preheat oven to 350 degrees F.
In a medium size bowl combine the almond flour, coconut oil and maple syrup.
Mixed together using a fork.
Scoop out using a tablespoon, roll into a firm ball and place onto a lined baking tray (I used a melon scooper).
Once all the cookies are on the sheet, use your palm to flatten each one.
Press your thumb into the center of each cookie.
Fill the thumbprint with jam.
Bake on 350 F for 10-12 minutes. Let cookies cool completely before removing from the baking sheet.
*Ground the blanched almonds in a coffee grinder or blender if you have a blender to grind flour.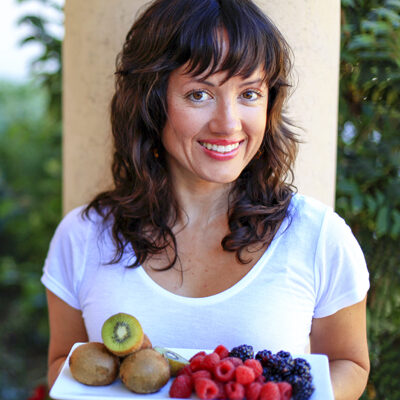 Hi, I'm Christine, thanks for stopping by! As a fibromyalgia thriver (symptom-free for over 10 years now thanks to diet and lifestyle changes), it is my passion to share the healing power of food.
As an RN and Holistic Nutrition Practitioner, it is my desire to empower you to take charge of your life.
Let's journey together to glowing health. Learn More
Your Health Transformation
Starts Here!
Sign up to get FREE healthy lifestyle tips and recipes!