Gluten-Free Lemon Thyme Muffins (Vegan)
Moist, light, delicious gluten-free muffins!
Until lockdown I never had any desire to bake. I loved eating baked goods but wasn't into making them. All that changed being at home not having access to the stores I'd normally go to for my favorite goodies. All sorts of cravings started setting in and I had to get creative! That's when these lemon thyme muffins were born. I have literally been baking almost everyday and I'm absolutely loving it! I never figured myself to be creative enough to be a good a baking. But apparently if your cravings are bad enough and with a little creative help from Pinterest anything's possible (insert winky face).
I love to peruse Pinterest for inspiration for new ideas and simple gluten-free/plant-based recipes. If you're intimidated by the idea of baking or just don't know where to start this is what I do…. I'll look over several recipes of something similar to what I'm interested in making. Get an idea of the different ingredients used to create a gluten-free version or plant-based version and then I'll start experimenting in creating my own version from there. After you do that several times you'll start getting creative ideas on your own because you'll have an idea of how to use different ingredients together to get the desired consistency, texture, etc.
If you've been following me for a while now then you know I'm all about simple, easy to make, healthy but delicious recipes. I know that's a tall order but it's totally doable. If you aren't already make sure to follow me on Instagram at @justglowingwithhealth where I share what I'm making on the daily keeping it practical.
These gluten-free lemon thyme muffins have it all. They're:
GLUTEN-FREE
MOIST
EASY TO MAKE
SIMPLE INGREDIENTS
VEGAN
DAIRY-FREE
NUT FREE
REFINED SUGAR FREE
THE PERFECT SNACK
HEALTHY
I've never been a muffin kinda girl in general. You know me I love my cookies! But for some odd reason outta the blue I got this mean craving for muffins and I just had to have some. I'd just planted thyme in my garden and it smelled so fresh and aromatic I thought "why not try something different?" Thus the thyme and lemon combo and I have to say I'm absolutely in love with it! It adds a nice subtle zesty, citrus flavor.
These muffins are so moist, light and maintain a nice texture, which for gluten-free is not always easy to find. It's always a good day when you create a winner on the first try of an experiment! I find baking with oat flour is my flour of choice. If you're allergic to oats or prefer not eat grains you can substitute it with regular store bought gluten-free all purpose flour, almond flour but it doesn't rise so well. Otherwise if you're not gluten-free you can use white flour, spelt or flour of choice. I can't vouch for any other flour as I have only made it using the oat flour so the taste and texture may change slightly depending on the flour you use.
These are totally kid-friendly. Your kids will love them. They're subtly sweet, so if you want to sweeten them up you can spread some jam on them. or even add chocolate chips to the recipe. In the morning for breakfast I like warming them up, cutting them in half and melting a little coconut oil on them it's so yummy!
This recipe was so exciting for me to make cause it's so different than anything I've made before. I'm loving branching out and getting creative in the kitchen. That is one thing I am thankful for on this lockdown is the added time it has given us forcing us to slow down. I've learned so much in the process. I hope this inspires you to get in the kitchen and get creative if you haven't been already. Let me know what you plan on baking, or how you're getting creative in the kitchen down below in the comments!
Servings 9 muffins
Recipe:
2 cups oat flour*
1 cup unrefined brown sugar (or coconut sugar)
3/4 cups plant milk of choice
1/2 cup plant-based yogurt ( I used soy)
1 teaspoon baking soda
1/4 cup coconut oil**
1/4 cup lemon juice (1 large lemon)
1 tablespoon zest of lemon
1 teaspoon vanilla extract
1 teaspoon dried thyme
1)Preheat oven to 350 F/175 C. 2) Line a muffin pan with 9 liners. In a large bowl, combine all dry ingredients. 3) Add in the wet ingredients stirring together until everything is evenly mixed. 4) Scoop out the mix into liners, only filling 3/4 of the way at most, they will rise a lot. 5) Bake 30-35 minutes or until golden on top and firm to touch. 6) Remove from the oven and let cool 10-15 minutes before removing from the tray.
Keep leftovers in an airtight container for maximum freshness.
NOTES:
*Can be substituted with white flour, gluten-free all purpose flour or spelt flour.
**If you're looking for oil-free you can use applesauce. I personally prefer the texture with the coconut oil, but if you're used to oil free baked recipes then feel free to substitute.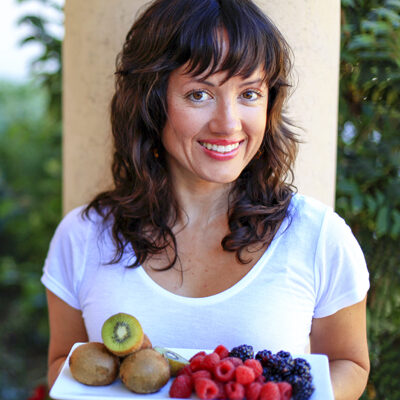 Hi, I'm Christine, thanks for stopping by! As a fibromyalgia thriver (symptom-free for over 10 years now thanks to diet and lifestyle changes), it is my passion to share the healing power of food.
As an RN and Holistic Nutrition Practitioner, it is my desire to empower you to take charge of your life.
Let's journey together to glowing health. Learn More
Your Health Transformation
Starts Here!
Sign up to get FREE healthy lifestyle tips and recipes!