Day Trip to Rousillon in Provence
This post is a third part continuation from a series of six posts. So if you haven't already, I suggest you start here to catch up from the beginning of our trip. The reason I'm doing each day trip one post at a time is because each village we went to was more charming than the next. I took so many pictures to try and capture the quaint, picturesque ambiance that I thought I'd use these posts more as a photo gallery to give you an idea of how each village is unique to itself.
On this day we spent the morning in Rousillon. All the day trips we did were less than an hour from where we were staying in Gargas and a morning was all we needed to see everything. Rousillon is a small village surrounded by beautiful countryside. It's famous for its ochre cliffs as you see below in the photo. It is an absolute "must-see" if you are in the area. Out of all the villages we toured this was one of the top places for ambiance, shopping, views, quaint buildings and shops. It's filled with narrows alleyways and picturesque views. Rousillon does not disappoint.
Even on the drive to the village from Gargas you'll pass breathtaking plush lavander fields that make for great photo's since they're not typical tourist routes.
Me and mom
Rousillon is filled with the vibrant red-orangish colors obtained from the ochres. I love the color contrasts so many of the buildings had with the yellowish red colors and contrasting colors of the doors and shutters. It made for a stunning, warm, inviting atmosphere…not to mention great backdrops for photo taking!
This was by far my absolute favorite building, it was incredibly stunning.
There are art galleries and studios and lots of restaurants to enjoy. Once again in these villages there was little to no options for vegans other than very small side orders so we opted to eat most our meals at home which was close enough to return to each time. Just another benefit of staying where we did, it really was an idea location. You could also pack your lunch and eat it in the piazza on the benches soaking up the quaint French ambiance, which we did a couple of times and enjoyed. Or enjoy an appetizer with a glass of wine which we did and really enjoyed.  I hope you enjoyed this brief glimpse into Rousillon and all it has to offer!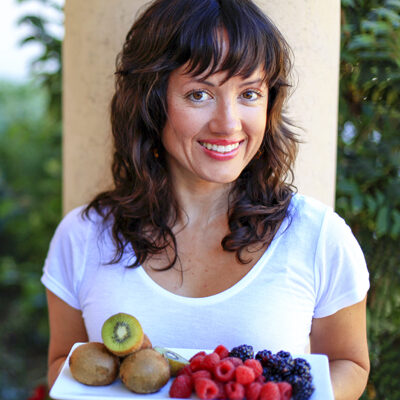 Hi, I'm Christine, thanks for stopping by! As a fibromyalgia thriver (symptom-free for over 10 years now thanks to diet and lifestyle changes), it is my passion to share the healing power of food.
As an RN and Holistic Nutrition Practitioner, it is my desire to empower you to take charge of your life.
Let's journey together to glowing health. Learn More
Your Health Transformation
Starts Here!
Sign up to get FREE healthy lifestyle tips and recipes!