Cheezy Turmeric Roasted Cauliflower (Dairy-Free)
This cheezy roasted cauliflower has been such a hit around here that I can't wait to share the recipe with you today! I've been craving this every evening for dinner, it's so savory and delicious I often end up eating the whole thing myself.  It's like potato chips for me I can't stop at just one!
This cauliflower recipe makes for a great dish to serve to guests, or to bring to potlucks. Every time I serve it to friends they love it, even my husband asks for it and he's my gauge to know when I've hit the jack pot recipe. When he loves it, it's DEFINITELY a hit!
I also like to  add this to salads to give it a crunch and make it a little heartier.  It's even good as a snack to munch on during the day. That may sound weird..cauliflower for a snack, but you just have to try it to understand…trust me on this one!;)
Cauliflower is a wonderful fibro-fighter food. It has great healing properties for improving symptoms of fibromyalgia. The key is eating a variety of these plant-powered foods to benefit from all the healing nutrients they provide.
Cauliflower contains choline, a B-vitamin that's known for its role in brain development. It helps with sleep, muscle movement, memory, aids in transmission of nerve impulses and helps reduce chronic inflammation.
It's also high in fiber helping with digestion and constipation. It's rich in vitamins like vitamin C, vitamin B (which helps support the body during stress) and vitamin K and minerals like potassium, magnesium (which most fibro-fighters are low in) and phosphorous.
Recipe:
1 small head of cauliflower
1/4 heaping teaspoon turmeric
1 heaping tablespoon nutritional yeast
1 tablespoon coconut oil
(optional) 1/4 teaspoon Himalayan salt
1) Preheat the oven to 400 degrees F. 2) Cut into the cauliflower into bite-size florets (the smaller the piecers the crispier it will be). 3) Toss the florets with the oil, nutritional yeast, turmeric and salt on a baking sheet. 4) Roast, tossing occasionally until golden and crispy (about 35-40 minutes). 5) Transfer to a serving bowl and enjoy!
NOTE: Nutritional yeast can be found at most health food stores like Whole Foods, Spouts or Lassens. Coconut oil can be substituted with oil of choice, but I find coconut oil to be the tastiest.
If you get a chance to make this make sure to leave me a comment below and let me know how you enjoyed it! Also I love seeing your re-recreations of my recipes so make sure to tag me on IG at #justglowingwithhealth so I can see your photos!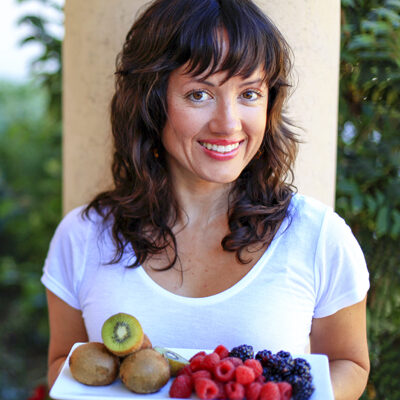 Hi, I'm Christine, thanks for stopping by! As a fibromyalgia thriver (symptom-free for over 10 years now thanks to diet and lifestyle changes), it is my passion to share the healing power of food.
As an RN and Holistic Nutrition Practitioner, it is my desire to empower you to take charge of your life.
Let's journey together to glowing health. Learn More
Your Health Transformation
Starts Here!
Sign up to get FREE healthy lifestyle tips and recipes!