This smoothie is sweet, creamy and deliciously satisfying.  It's filled with minerals, antioxidants, protein and healthy fat.  One of my favorite snacks used to be peanut butter.  I would eat peanut butter and jelly, spread it on apples, celery, toast. I just loved the creamy taste of peanut butter.  I guess it was kind of comfort food for me.  Then I learned that peanuts naturally contain high levels of mold on them and are heavily sprayed with fungicide, so I replaced it with raw almond butter.  It took a little getting used to at first because I was used to the highly processed, refined version.  Now after eating the raw almond butter in its natural form  I absolutely love it and I could never go back to the artificial peanut butter.
Almonds are an excellent source of calcium, magnesium and phosphorous essential minerals for strong teeth and bones.  They also contain fiber which keeps things movin in your colon to help prevent constipation and the back up of toxins causing colon cancer.  Just ten almonds contain 2.5 grams of protein so if you're wondering where you get your protein on a plant-based diet almonds are a good source.
What you start your day off with makes a difference in how you'll feel during the day and what you crave.  Making a healthy, dairy-free smoothie made up of nothing but fresh, whole ingredients is the best way to start your morning.  It will infuse with you with a quick punch of energy that will get you through your morning feeling light, clear-headed and ready to go! It literally puts a kick in your step. 🙂
This peanut butter smoothie can easily be made into a green smoothie simply by adding a handful of spinach. You won't even taste it, I promise!  Also if you wanted to make this a chocolate peanut butter smoothie you can always add a tablespoon of carob.  Yum!
Serves 5 cups
Recipe:
2 ripe spotted bananas, peeled
2 frozen bananas
1 1/2 cups almond milk
3 Tbsp raw almond butter
Cinnamon to garnish
Blend above ingredients in a high-speed blender until creamy.  Pour into a large glass and sprinkle cinnamon on top.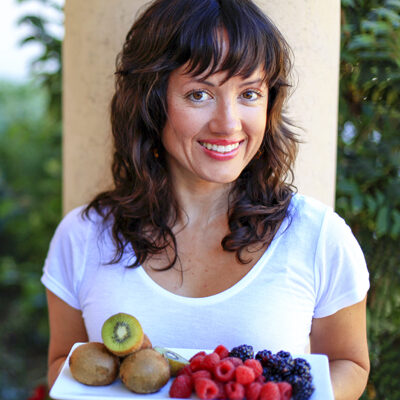 Hi, I'm Christine, thanks for stopping by! As a fibromyalgia thriver (symptom-free for over 10 years now thanks to diet and lifestyle changes), it is my passion to share the healing power of food.
As an RN and Holistic Nutrition Practitioner, it is my desire to empower you to take charge of your life.
Let's journey together to glowing health. Learn More
Your Health Transformation
Starts Here!
Sign up to get FREE healthy lifestyle tips and recipes!