3 Ingredient Chocolate Pudding Bliss
If you have a sweet tooth and are craving something chocolate and rich you are gonna love this! The best part is you only need THREE ingredients to make it and there's no refined sugar added!
When I started healing my fibromyalgia with raw foods, the first thing I cut out was refined processed sugar and it made such a difference. Refined sugar is toxic to our liver, to our health, to our body…everything. It really should not be consumed in any shape or form. So this is a fab guilt-free dessert that anyone can indulge in, especially for kids. I guarantee they'll love it and won't even have a clue that it's good for them!
Chocolate is not something I  crave too often but when I tried this I was wowed by how chocolatey, rich, and decadent this pudding tasted. It almost felt like I should feel guilty for eating it, it was that good! When I make food I need that wow factor, you know like when you take that first bite you stop and almost get lost in that second of bliss. So, while I like to keep my food simple, easy to prepare and quick on time I'm still a foodie and I want delicious food!..And I think you probably do too. Am I right?
Most raw vegan pudding recipes that I've seen are made with avocado. While I love me some avocado I somehow still can taste it in the dessert and  I just can't get past that.  They're also usually made with maple syrup or agave, which I really try to avoid as much as possible.  I prefer to use dates as my sweetener of choice. So this pudding recipe is avocado free with no added refined sugar.
Lately, I 've been wracking my brain trying to enter into creative levels that are hidden deep inside trying to create healthy , delicious recipes for my husband that he'll actually like. I have to say he is my worst client, he'll openly admit this with no shame. I'll make certain recipes, with him in mind, and he tries it very begrudgingly and says so unenthusiastically "ah it's ok." His friends will try the same thing and love it, tear it up and finish it but he's just so not interested. Mind you he goes in phases, so if he gets the slightest symptom that he's not well he runs to me for diet changes…makes the changes…feels better…goes back to his ways. He really does try but it's more powerful than him..hehe.
My husband is a huge chocolate lover so I bought cacao to make chocolate dessert recipes. I remembered that back in Italy he loved his budino (pudding) so I decided to give it a try. He has such a sweet tooth so if I can find healthy desserts that he'll eat that's half the battle. When I first made this and asked him to try it, he stuck his finger out for me to dab a little pudding on, tried it quickly and was about to go through his normal routine of "yea it's ok".. blah blah blah, but this time he did a double take, his eyes widened with delight and said "mmmm, YES I like this, can I have the rest?"..What?? Music to my ears alas! He devoured the whole thing to my delight. SUCCESS! So, needless to say if he loved it I know you will too!
I used the flesh of a young Thai coconut to give it that creamy texture and using the dates not only sweetens it fabulously but thickens it up nicely to make it even more rich and creamy. I usually get coconuts at Asian markets, but you can usually find them at any health food store and even some regular grocery stores will have them.
This pudding was so good with either raspberries or strawberries, cherries would've been good too but sadly they're not in season yet. I poured the raspberries in and smothered them in this chocolate bliss and it was a truly special moment. 🙂 I'm telling you, you just gotta go and try it for yourself!
Oh and by the way don't be ashamed to just lick the bowl clean when no ones watching, it's THAT good!lol
Servings 1
Recipe:
1 young Thai coconut (1 cup flesh + 1/3 cup water)
6 medjool dates, pitted
2 tablespoons cacao (or carob)
Blend ingredients in a blender on high until smooth and creamy. Scoop out into a small bowl. Enjoy with fresh berries.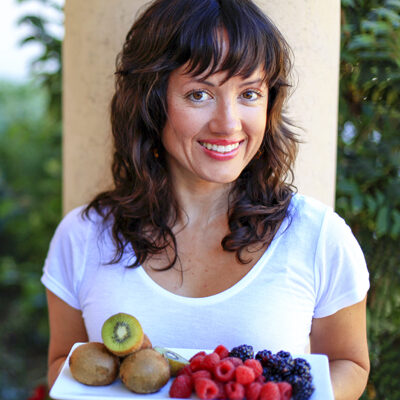 Hi, I'm Christine, thanks for stopping by! As a fibromyalgia thriver (symptom-free for over 10 years now thanks to diet and lifestyle changes), it is my passion to share the healing power of food.
As an RN and Holistic Nutrition Practitioner, it is my desire to empower you to take charge of your life.
Let's journey together to glowing health. Learn More
Your Health Transformation
Starts Here!
Sign up to get FREE healthy lifestyle tips and recipes!