Zoodles with MarinaRAW Sauce (by HP)
One of the challenges of being raw vegan, whether it's short-term or long-term, is preparing food for yourself and the others in your family who don't want to eat like you. My husband will usually eat 1, sometimes even 2, raw meals with me. He loves smoothies and he appreciates a good salad (he even makes a really good salad that's been requested when we come to people's homes). But dinner for my husband has to be hot and preferably vegivore.
When I'm doing the raw vegan challenges many times I'll make a regular dinner for my husband that's from a similar base as mine. He loves basil and cilantro as much as I do. So often I'm flip flopping between Mexican and Italian inspired cuisine. This recipe is Italian.
He doesn't know it but all the pasta I use is gluten-free, brown rice, pasta. I make quick work of the zucchini with my zoodler turning it into zucchini noodles (zoodles) and set it aside while his pasta is boiling. Then I prep my next ingredients, which when they are this lovely are ever so enjoyable.
In general I love to cook and we don't really eat out. Most of the time I prepare all our meals. We only eat out maybe two to four meals a week. Typically one breakfast, two lunches and one to two dinners. (Although June we ate out like crazy). Four to six  meals out is pretty good considering the average person eats 14-21 meals per week. I'd love to eat all our meals at home, but we do love the relaxation of being out together for a dinner date or two.
Next I made my Marinaraw in 2 batches. The consistency should be thicker.  It's easier to control that if you do it in small batches. Once my husband's pasta was ready, I tossed it with some sauteèd veggies, cold-pressed  (extra virgin) olive oil and a batch of the Marinaraw. I did this while the pasta was piping hot so the heat from his pasta warmed and slightly cooked the sauce.
After that I plated my raw bowl – zoodles adjacent to green peas adjacent to the sauce. I love eating English green peas. It's not easy to find them fresh all year round. So often I buy them frozen and just run them under cool water to defrost them. They are great to throw into everything. I even have a friend who makes a faux guacamole with them, she is always telling me I should try it. One day I'll have to get her recipe.
Garnish was a quick relish of beautifully ripe tomatoes, green onions and more basil…and voila! There you have it… Zoodles and Marinaraw.
It was a bright vibrant dish that both of us enjoyed. Doug even tried mine because he said it looked and smelled really good. He was impressed and said he'd actually eat the zoodles and sauce if I made it again. Note to self✔.
 Recipe:
To make the relish:
1 small tomatoes
1 green onion
4 basil leaves
Chop and toss together.
To make the MarinaRAW Sauce::
3 small tomatoes cut in half
1 clove garlic 
1 green onion chopped
4 sun dried tomatoes (soak them in water for 15 minutes or so, prior to using. Save the water they were soaking in.)
Blend all the solid ingredients in a Vitamix and puree. You can add a little pink salt if you like. 
If it seems too thick drizzle in the sun dried tomato water a little at a time until you get the right texture. If it seems too thin add sun dried tomatoes as needed, starting with 1 at a time.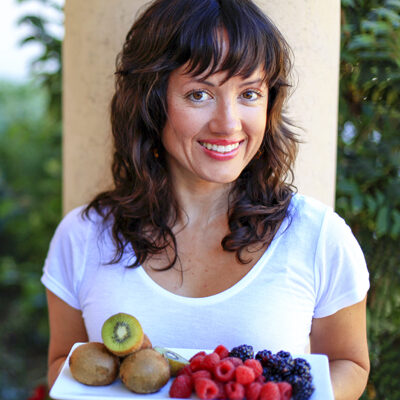 Hi, I'm Christine, thanks for stopping by! As a fibromyalgia thriver (symptom-free for over 10 years now thanks to diet and lifestyle changes), it is my passion to share the healing power of food.
As an RN and Holistic Nutrition Practitioner, it is my desire to empower you to take charge of your life.
Let's journey together to glowing health. Learn More
Your Health Transformation
Starts Here!
Sign up to get FREE healthy lifestyle tips and recipes!