Solo Crudo Raw Food Restaurant Review (In Rome)
Today we're spending the day in Rome with family after our trip to Puglia. We head back home to La Spezia tomorrow. So with just one day here and so much to be seen the big question is… in this magnificent metropolis how do I want to spend my time here ??
Well as they say…'When in Rome…' you do do what the other Roman raw foodies do haha! As a foodie you know I want to get my raw food grub on! After looking up raw food restaurants around I found Solo Crudo. Their menu looked sublime and the photos of their plates delectable. I just had to go!
Now the hard part…convincing my highly carnivorous husband (who declares himself allergic to all veggies especially anything green, lol). Thankfully my sister-in-law and brother-in-law were up for a food adventure so off we went.
As soon as we walked up to the restaurant I knew it was my kinda spot. Just look at the message written all over the windows. It's screaming good vibes. The atmosphere inside was eclectic and characteristic. The moment the doors opened at noon it was non-stop packed so it obviously has made a name for itself.
As we sat around the table, the three of us we excitedly picking out appetizers, main courses, drinks etc. In my husbands corner it was awfully quiet, and I just felt this heavy blank stare at the menu. Then finally he saw the word BURGER and that caught his eye and he took a sigh of relief and said proudly I'll take the BURGER! He was so happy that there was something familiar to him on the menu.
I had to explain, " now you know that there's no meat in there right? It's going to look similar to a burger and it'll be delicious but that doesn't mean it's going to taste like meat. There's not going to be a regular bun…etc etc." Sometimes seeing the names of SAD foods used for a raw vegan version can totally play tricks on the mind. But, he was a good sport and was ready to be adventurous none-the-less.
Now for the food. I'm going to attempt to describe everything as accurately as possible but everything was explained to me very fast in Italian so keep that in mind :).
One thing I really appreciate about Solo Crudo is that they use only in season ingredients that is such a plus for me. Also there it's all gluten free no grains are used at all.
We started off with a round of juice: I ordered the DETOX which was carrot, fennel and apple. Wonderfully refreshing for a hot humid day,
We all ordered different appetizers so that we were able to sample a little of everything.
The zucchini rolls we all agreed were amazing! They weren't actually even on the menu since they were a substitution for Asparagus Carpaccio which currently isn't in season.
My thoughts: one of my favorite dishes of the whole experience. They're made with a cashew cream, sun-dried tomatoes and sprouts rolled in a thinly sliced zucchini  and sprinkled with pepper. They were mildly seasoned and incredibly savory. My husband thoughts: LOVED these..that says it all!
Next up were the Stuffed Zucchini Blossom: Zucchini blossom with Sicilian pesto, capers and oregano sauce. My thoughts: Beautiful presentation but the seasonings were very stimulating to the taste buds. The initial couple of bites were amazing but then I felt over powered by the flavors going on.
If you're a raw foodie like me not used to a lot of salt and seasoning these might be too much, or they're great to split at the table. My husbands thoughts: LOVED these, probably his favorite thing on the menu.
Next on the menu was the Raw Vegan Cheese Platter: A selection of raw cheese with crackers and marmalade. There was a smoked paprika cheese, cracked pepper cheese and one more (that I can't remember) along with sun-dried tomato dehydrated crackers and several marmalades.
My thoughts: 10+ absolutely LOVED this platter. The marmalades were one better than the next. The smoked flavors of the cheese with sweet, savory and spicy flavors of the marmalades were a match made in heaven. I've been craving this plate ever since! My husbands thoughts: It was ok but he'd rather stick with HIS cheese. The rest of us all LOVED it though.
Next was this zucchini ravioli, it was a substitution for another dish on the menu that's not currently in season, but I was so busy taking photos of everything I forgot to taste this one so I can't give you my thoughts on it. But it was devoured immediately so I'm thinking it was good!
For the main dish I ordered the Caccio e Peppe (below): Zucchini Spaghetti, pepper, sun-dried tomatoes with a raw cashew cheese. My thoughts: Really enjoyed it. It was savory and creamy, mildly seasoned and overall appetizing. My husband didn't try this one.
My husbands beloved burger with tzatziki sauce, barbecue sauce, pickled cucumber, crunchy zucchini sticks and onion rings. My thoughts: Loved the tzatzkiki sauce, zucchini sticks and onion rings. The burger, which I believe was made with mushrooms and sun-dried tomatoes, was delicious but once again a bit over stimulating  for my taste-buds. More importantly my husband thoughts: LOVED it!
My sister-in-law ordered this Mushroom Soup: mixed mushrooms, curry, cashews, tamari sauce, and coconut milk. My thoughts: INCREDIBLE. So creamy, rich and savory full of flavor, very well done. My sister-in-laws thought: LOVED it!
By the end of all this we were so stuffed we could only even think of ordering one dessert to split between us all. So we ordered this Choco Tris: white chocolate mousse, dark chocolate mousse, chocolate and hazelnut brownie topped with berries. My thoughts: WOW! First bite tasted like I was biting into a warm chocolate brownie out of the oven. They really managed to capture the essence of this all American dessert. Their thoughts: LOVE LOVE LOVE!
So that was our experience at Solo Crudo to check out the menu and details of the restaurant click HERE.  If you find yourself in Rome, raw foodie or not, have yourself a foodie adventure and make sure to try it out for yourself!
Which of these plates would you like to try? Let me know in the comments below!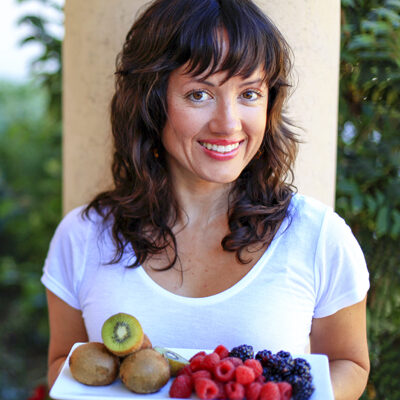 Hi, I'm Christine, thanks for stopping by! As a fibromyalgia thriver (symptom-free for over 10 years now thanks to diet and lifestyle changes), it is my passion to share the healing power of food.
As an RN and Holistic Nutrition Practitioner, it is my desire to empower you to take charge of your life.
Let's journey together to glowing health. Learn More
Your Health Transformation
Starts Here!
Sign up to get FREE healthy lifestyle tips and recipes!