Eating Raw Vegan Despite a Crazy Month (By HP)
I sit in seat 28C of a Jet Blue aircraft headed for Florida after the conclusion of my 30 day Raw Vegan challenge. My headphones are in and 'The Sound of Music' is playing on my screen. It sets a pleasant mood for writing.
I wanted to recap my month of the raw vegan challenge for you. It didn't go as planned but I made it through a crazy, hectic, painful month maintaining raw none-the-less. I really attribute my physical and emotional strength to handle it all thanks so me eating raw.
The month of June left me realing from family emergencies, extreme tragedy within my circle and painful flare-ups with my skin. My heart is broken for my friends right now and they flood my thoughts hourly. I've always had a deep love for humanity and appreciate every moment of togetherness with my friends and family. It's the experience of coexisting in love and coming together to share in times of trouble and times of joy that brings meaning and gives purpose.
I feel grateful that I got to participate and experience everyone coming together in a bond of love. Since June was so personally challenging I tried not to think too much about the big picture of my goals. Instead I tried to think about the few hours that I could move fluidly through.
 Choosing to focus on things I could accomplish during that time, not over thinking, while making wise decisions regarding my health and the welfare of others kept me from purposely overwhelming myself. Life is overwhelming at times, it's inevitable. I tried to keep from pushing it over the top while allowing myself time to laugh, cry, rest and stay calm.
 Included in those good choices was eating Raw Vegan. Many people commented to me that they were amazed at my will power, that given the circumstances they'd have given up. My husband and others remarked that they felt it was my good choices that were giving me stamina.
In general I'm a girl of my word, my yes means yes in all things. I made a commitment to myself to eat Raw Vegan and I couldn't go back on my choice. So I'd just discuss each meal with myself. (LoL! That sounds funny.) My thoughts were more like this all month: "Do I want to eat Raw at this moment? Yes? Sure, why not… Ok then. I'll make efforts to accomplish that right now. Later we'll see how I feel. No pressure." Fortunately I kept wanting to move forward with raw food each meal. So it all worked out.
One of the largest challenges was all the eating out and foods others had prepared. The first week of June I was in mid-skin flare and was house sitting for my in-laws. So my stash purchases were a little perfunctory. We attended a wedding and graduation party.
When we got home I was trying to get settled in from traveling for almost 4 months back and forth between coasts to help out my family. Then things got really serious and just never relented. Thankfully my last raw vegan day was the first day of a 3 day spiritual seminar my husband and I attended. It was much needed.
As you saw from my Instagram and Facebook posts I was eating out a lot. I think I hit every smoothie joint in Santa Cruz County, trust me that's a feat in itself as this vegetarian town is loaded with smoothie options. I also hit the Whole Foods salad bar and ate a lot of salsa and guacamole with cucumber slices or endive leaves (and sometimes tortilla chips, I'm not gonna lie).
One of the local juice bars provided quick fixes. And I "saladed" everywhere, requesting substitutions constantly. Now this year I relented to vinagrette dressings instead of my own home made. Snacks were dried fruit and nuts.
What I learned – you can eat raw vegan while traveling and eating out. It takes diligent effort, but you can do it! So now I know I can do it if I have to.
My desire was to make the recipes from the other half of Christine's 21 days to glow program. Last year I completed half of the recipes.  So I decided I'm going to continue to try to have 2 raw meals per day over the summer and post them for you to see. There's an article about raw oats that I will be finishing to share with you. Stay tuned for that.
Overall I lost 10 pounds, my skin flare healed a little more quickly and I had the endurance to get through great challenges. I think I kind of felt that I had a calm peace in my insides. Does that make sense? And I attribute that to the raw foods I was eating.
Thanks for your support during the month of June during such a crazy time for me. If you participated leave a COMMENT below and let me know how it went for you, I'd really love to hear!
Xo HP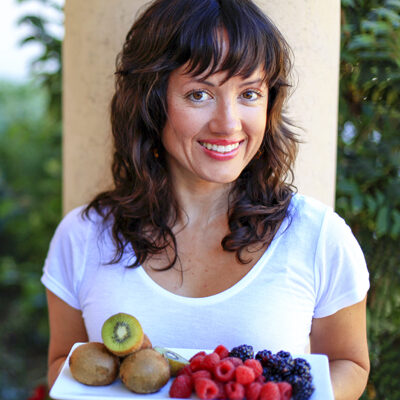 Hi, I'm Christine, thanks for stopping by! As a fibromyalgia thriver (symptom-free for over 10 years now thanks to diet and lifestyle changes), it is my passion to share the healing power of food.
As an RN and Holistic Nutrition Practitioner, it is my desire to empower you to take charge of your life.
Let's journey together to glowing health. Learn More
Your Health Transformation
Starts Here!
Sign up to get FREE healthy lifestyle tips and recipes!