Spicy Chili Mango Dipping Sauce
This chili mango dipping sauce is so appetizing filled spicy, savory flavors that I just couldn't stop sampling it as I was making it. Before I realized it spoonful after spoonful I had almost finished it off!  The aromatic spices of cardamom and cilantro mixed with the sweetness of the mango was enough to have my mouth-watering and I know you are going to love it too!  When I make this I like to make enough to at last several days.  I store it in a  glass jar in the fridge so that I can just pull from it as I need without having to make it each time.  It's a big time saver.
I originally made it to go with a tangy veggie cabbage wrap as a dipping sauce.  But it really can be used for so many things.  It makes a great salad dressing, a sauce for lettuce tacos, or even a veggie dip.  That's the beauty of the raw food diet the variety is endless.
One thing I always encourage my clients to do is pick a day each week, usually a Sunday, to prepare foods for the week ahead to have on hand.  This way when you come home from a long day it's not a chore making dinner you already have the components prepared.  Or if in the morning you are in a crunch for time you can just pull from the fridge what you have ready to make a quick lunch for that day.  This way there's no excuse to reach for some junk food instead.
Makes 16 oz
Recipe:
2 champagne mangoes peeled (cut flesh from and discard the pit)
1/2 lime, juice of
2 tbsp cilantro
1/2 cup coconut milk*
1/4 tsp chili powder
1/8 tsp cayenne
1/4 tsp cardamom
Put all the above ingredients in a blender and blend until smooth and creamy.  Pour into a dipping bowl and enjoy with your favorite lettuce or cabbage wraps!
NOTE: If you use a store bought brand of coconut milk I recommend THIS brand as it has a nice thick creamy consistency needed for this recipe. Also, I recommend pouring in the milk a little at a time, blending and then checking the consistency until it is thick and creamy, to avoid it becoming to liquidy.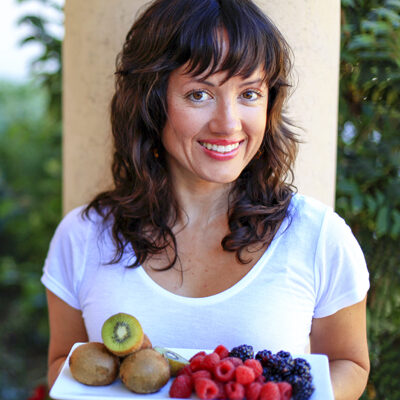 Hi, I'm Christine, thanks for stopping by! As a fibromyalgia thriver (symptom-free for over 10 years now thanks to diet and lifestyle changes), it is my passion to share the healing power of food.
As an RN and Holistic Nutrition Practitioner, it is my desire to empower you to take charge of your life.
Let's journey together to glowing health. Learn More
Your Health Transformation
Starts Here!
Sign up to get FREE healthy lifestyle tips and recipes!