Sun Dried Tomato Zucchini Hummus
I have found that having tasty sauces, dressings and dips are one of the biggest keys to success to maintaining the raw food diet..at least for me that is. I try to avoid salt and oil as much as possible and what really helps is having a delicious creamy dressings. So I am always looking for creative new ideas for recipes. If you truly relish what you eat you will make healthy eating a lifestyle not just a short-term diet.
This humus recipe is one of my favorites. It is so delicious, easy and quick to make. It is great to serve as an appetizer at a party, it's a great snack for the kids, and overall it's a great way to help you delight in eating more raw vegetables. Usually humus is made with chick peas but I use zucchini instead (another way to sneak a vegetable in). The other main ingredient is tahini. Tahini is made from sesame seeds ground and it gives it a rich, nutty flavor. It is also a good source of calcium, protein and iron. Here's the recipe, now read it quick and then hurry and make it! This hummus can also be used as a dressing in a salad, and it's oil-free and salt-free too so even better.
You could even make a whole meal out of this hummus and cut up veggie sticks. With a busy nurses schedule and short lunch breaks I need quick easy meals ready to go. Usually I will pack a whole container filled with veggies of all sorts, I pack in a ziplock bag a several romaine lettuce leaves and the hummus in another container. At lunch time I make lettuce wraps with them, and it is so satisfying!
Having on hand already made dips is a great way to avoid snacking on junk during the day when you get the munchies. Chances are if you suddenly got snack cravings and weren't prepared you'd give in to something easy and probably not ideal. But, when you are prepared it makes things so much easier.
This is true especially when coming home tired after a long day of work. One of the first things I do is open the fridge cause I feel like munching, having cut up veggies and a nice dip or dressing on hand makes a healthy snack easily and quickly accessible.
Servings 2 cups
Recipe:
1 medium zucchini (peeled and cut)
1/3 cup packed sun-dried tomatoes
1/4 cup tahini
1 clove garlic
1 lemon, juice of
1/4 tsp cumin powder
1/8 tsp chili flakes
1 teaspoon fresh parsley chopped for garnish
Blend on high all ingredients except parsley in blender until creamy and smooth. You may need to stop and scrape down the sides a few times. Pour into a bowl and dress with a fresh herbs on top. Serve with veggies or even in a salad.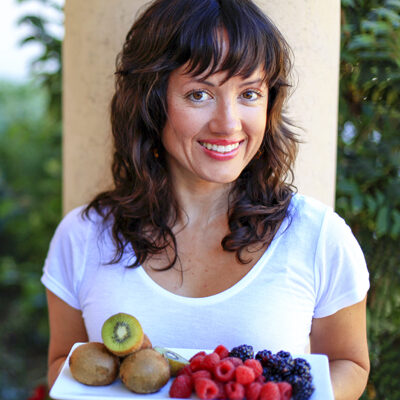 Hi, I'm Christine, thanks for stopping by! As a fibromyalgia thriver (symptom-free for over 10 years now thanks to diet and lifestyle changes), it is my passion to share the healing power of food.
As an RN and Holistic Nutrition Practitioner, it is my desire to empower you to take charge of your life.
Let's journey together to glowing health. Learn More
Your Health Transformation
Starts Here!
Sign up to get FREE healthy lifestyle tips and recipes!