Summer Jicama Bruschetta with Mango Salsa
This Summer Jicama Bruschetta recipe with Mango Salsa is perfect for those hot summer days. It's sweet and savory, juicy,refreshing and keeps you feeling light in the tummy. There's nothing worse than on those hot summer days eating food that makes you feel bloated and heavy. Raw fruits and veggies keep you glowing from the inside out. So get glowin with these Summer Jicama Bruschetta, you're gonna love them!
They make for a fun appetizer to put out at a summer poolside party or potluck or to have as a snack ready to go. You can easily prepare it in advance and store the mango salsa in one container and the cut up jicama in a ziplock bag, or if you're anti-plastic like me then in an airtight container in the fridge. You can also simply just make a meal out of these as I love to do! The mango salad will last 2-3 days max you really want this when it's fresh for optimal flavor, but the jicama will last 5-7 days once cut.
In case you've never had jicama it has a very similar texture to that of water chestnuts or Asian pear, in that it's crisp, crunchy and very refreshing. It has a very subtle sweet flavor, it can really blend with anything because it has so little flavor, and the crunchy texture can be used in a variety of dishes like salads, or with other fruits. I've even made Jicama Chili Cheeze Fries with it and they've been a huge success wherever I've brought them! You can check out that recipe here. Jicama originates in Mexico so if you can't find them in your local grocery markets try Mexican or ethnic produce stores. Whole Foods will definitely have them, but that's always my last resort because they always cost ridiculously more than everywhere else.
Unlike the "real" bruschetta this recipe is gluten-free so no bloating, abdominal pain or nasty affects that gluten  so often leaves behind. I used to always say 'if I'm gonna cheat and eat gluten it better be worth the pain I'll feel afterwards.' But the beauty here is that you can eat as much as you want and the only effects afterwards is feeling satisfied, happy and nourished. So dig in and enjoy!
What I love about this recipe is that it's so full of zesty juicy flavor there's absolutely no need for salt or oil. There is plenty of flavor all on its own. These summer months filled with all the delicious succulent fruit is a great time to take advantage to eat more raw foods, and you will literally see and feel the difference of how good you feel! I can't wait for you to try this recipe, hope you enjoy!
Recipe:
NOTE: This is not a strict recipe this is all to taste add more or less as you desire for your taste
1 medium size jicama
1 batch of mango salsa
Directions: 1) Peel the jicama. Start by chopping off the bottom and the top so that it will sit flat, then using a vegetable peeler peel the jicama and halve it from top to bottom. Slice jicama halves about 1/2 inch thick then cut small bruschetta like squares out of each slice and place onto a platter. 2) Follow the directions for the mango salsa. 3) Scoop the salsa onto each bruschetta.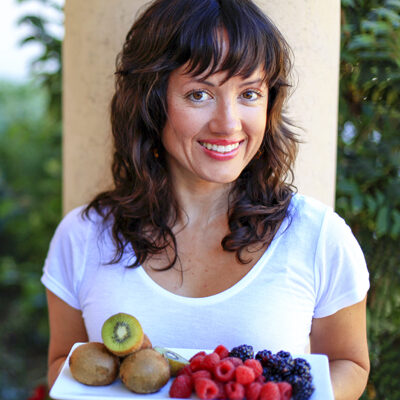 Hi, I'm Christine, thanks for stopping by! As a fibromyalgia thriver (symptom-free for over 10 years now thanks to diet and lifestyle changes), it is my passion to share the healing power of food.
As an RN and Holistic Nutrition Practitioner, it is my desire to empower you to take charge of your life.
Let's journey together to glowing health. Learn More
Your Health Transformation
Starts Here!
Sign up to get FREE healthy lifestyle tips and recipes!