Mouth-watering Mango Salsa
This Mango Salsa is full of spice, zest and mouth-watering sweet juicy flavor. It's oil-free and salt-free and I have to warn you it can be quite addicting! It makes for the perfect snack when you get the munchies. I like to take cold crisp Romaine lettuce leaves and use them as chips and you've got chips and salsa! This can also be eaten as a salad adding greens like arugula or spinach, or simply enjoyed as is. The beauty of the raw food diet is that most recipes are so versatile. You can take one meal and eat it several different ways. There's absolutely NOTHING boring about this diet!
A truly fresh ripe mango is a slice of heaven. I seriously can live off just mangoes. So, before moving to Italy I made sure to have my fill of this slice of perfection making mango everything! Here in Italy there are mangoes but the cost alone is enough to leave a sour taste in your mouth but they really aren't the true representation of what a mango tastes like.  I'm sure they're picked when completely green and then transported thousands of kilometers, so they're just not the same. Quite disappointing.
This is a great recipe to make the night before and it ready to go for the morning to bring for lunch the next day. Having the night to sit in its juices the flavor will be even more intensified. You can pack a separate container of greens you want to add and have it all ready to go, so easy! It should last 2-3 days stored in the fridge but the sooner you eat it the better while nice and fresh.
NOTE: There's no strict recipe for this, it's totally to taste. Feel free to add more of less of any ingredient or switch them out as desired with other ingredients.
Recipe:
3 large mangoes, peeled and chopped
1 red bell pepper, finely diced
Red onions (or green onions), diced
Fresh basil, finely chopped
Cherry tomatoes, sliced (or tomato of choice)
1 jalapeño, diced (if you prefer the heat keep the seeds, otherwise remove them)
Directions: When cutting the mango and tomatoes make sure to keep the juice as that adds much to the flavor. Place above ingredients in a medium size bowl and enjoy.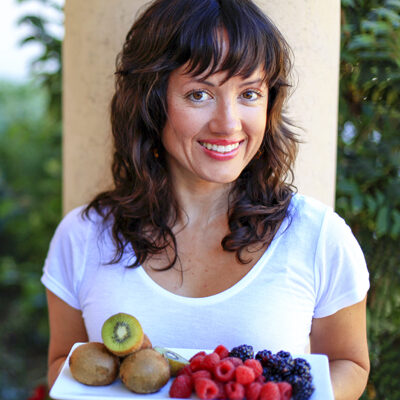 Hi, I'm Christine, thanks for stopping by! As a fibromyalgia thriver (symptom-free for over 10 years now thanks to diet and lifestyle changes), it is my passion to share the healing power of food.
As an RN and Holistic Nutrition Practitioner, it is my desire to empower you to take charge of your life.
Let's journey together to glowing health. Learn More
Your Health Transformation
Starts Here!
Sign up to get FREE healthy lifestyle tips and recipes!