La Spezia Castle Vegetarian Fest
Here in La Spezia (specifically Sarzana) this past weekend, there was a Castle Vegetarian Fest. After having moved here just four months ago from Los Angeles, what better welcome than a Vegetarian Fest in a Castle that's over 1,000 years old?? LOL.
I was counting the days down to go. After all leaving the vegan mecca of LA I was feeling a little out of place here and just missing the whole vegan scene that's so prevalent back home. So, I thought it'd be fun to share the highlights of the weekend with you.
The event was put together so well, you couldn't help but be impressed. There were over 100 stands displaying vegan, ecological products, health products, food prep demonstrations, and even discourses on a variety of subjects from the environment to health and animals. There were even stands with sustainable fashion from clothes to purses and shoes, all with the Italian fashion flare!
I really wanted to do a YouTube video for you and I tried but unfortunately there's such limited internet here that the video wouldn't upload. Just to give you an example of my internet situation.. a ten second snapchat video takes ten minutes sometimes, so you can imagine an actual video. I was so disappointed, but hopefully with time I'll figure a way around it.
I was a bit intimidated at first not knowing anyone, and with everything being in Italian but as soon as I arrived I felt right at home.  I easily struck up conversations with others and met some amazing people. Just writing about it I'm already missing it! I wish everyday was veg fest day lol.
And  then the food..let's not forget the food now! In the four months of living here in Italy I can't complain cause I always find vegan options when I eat out, and my friends so lovingly accomodate my diet when they invite us over. But this was a whole different level! In the photo below is a variety of typical Italian sauces and spreads all veganized, there were no words…each and everyone I sampled was incredible.
The selection of vegan food was amazing. It was so hard to choose what to eat I wanted to sample a little of EVERYTHING! Savory crepes with a pepper cream sauce, fresh made vegan pesto…REAL pesto, fruit tarts, lasagna, gazpacho soup,fresh juice, brioche, apple strudel! I'll take one of each PLEASE!
To have all that right at your finger tips, not have to go on a long trek trying to find something I can eat, or explain to the waiter my diet of everything I don't eat. Vegan was the "normal" for everyone here, it felt so nice for a change!
The discourses were so informative, there were doctors, naturopaths and other health care professionals all speaking. There seemed to be a great deal of interest from the public which was so nice to see. What I appreciate about the Italian people here is they seem to look for natural methods and diet for health care first before turning to medicine.
I hope there was enough interest in the event that they continue to put on such events in the years to come. I'm already looking forward to next years! And if you happen to be here in Italy and get to attend maybe I'l see you there!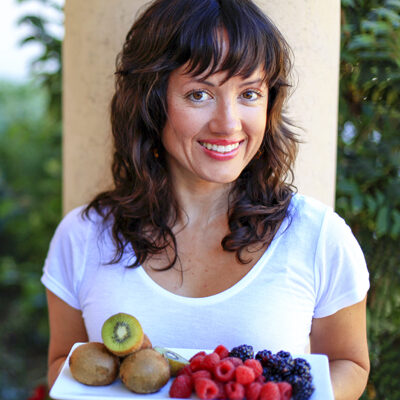 Hi, I'm Christine, thanks for stopping by! As a fibromyalgia thriver (symptom-free for over 10 years now thanks to diet and lifestyle changes), it is my passion to share the healing power of food.
As an RN and Holistic Nutrition Practitioner, it is my desire to empower you to take charge of your life.
Let's journey together to glowing health. Learn More
Your Health Transformation
Starts Here!
Sign up to get FREE healthy lifestyle tips and recipes!