Basil Pineapple Celery Juice
Ever since I bought my Omega 8006 juicer, I have been in juicing heaven.  It is so easy to use, quick and easy to clean and that makes all the difference in the world.  In the past I settled on buying cheaper juicers in hopes of saving, but they were so complicated to clean that I never had the time nor the desire for all the work involved.  This omega juicer was definitely worth the money.  I look at it as a small investment towards my health.  And in fact, I use it at least once a day so I am definitely getting my money's worth!
One of my favorite fruits to juice is pineapple.  Especially when juicing a lot of greens it  gives the perfect sweetness to balance out the bitterness. Plus it has so many beautifying benefits, not to mention it aids digestion and is filled with so many vital antioxidants.  This hydrating beautifying juice is made with only three ingredients.  Get the glow starting your day off with this for breakfast!
On a hot day just add some ice cubes to this and you have super nutritious, hydrating, delicious drink in hand.  Who needs Gatorade?
Makes 32 oz
Recipe:
1 pineapple, stem and skin removed, cut into long thin slices
1 small handful fresh Basil leaves
4 long celery stalks
Put all above ingredients through the juicer and pour into a glass or a 32 ounce mason jar if you're on the go.
Health benefits of celery:
– Celery juice has been shown to significantly lower cholesterol.
– Nutrients in the fiber are released during juicing aiding bowel movements and relieving constipation.  It also relaxes the nerves that have been over used by laxatives.
– Celery helps to normalize body temperature, so drinking celery juice on a hot day helps cool you down.
– Celery juice is highly nutritious and extremely hydrating.
– It is extremely alkalizing, so it balances the body's PH, which is essential for glowing health.
– Celery is rich in sodium, not the same as the chemical filled table salt.  The sodium in celery is organic and essential to the body.
– Celery is high in magnesium giving a calming effect on the nervous system.  This can help people relax and have a restful sleep.
– For athletes celery juice is the perfect post-workout drink, rehydrating the body and replacing lost electrolytes with its rich minerals.
Wow! That is so impressive,  celery is a nutritional powerhouse! There are many more interesting health benefits of celery, to check them out click here.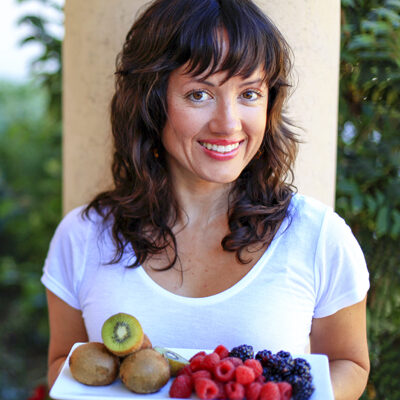 Hi, I'm Christine, thanks for stopping by! As a fibromyalgia thriver (symptom-free for over 10 years now thanks to diet and lifestyle changes), it is my passion to share the healing power of food.
As an RN and Holistic Nutrition Practitioner, it is my desire to empower you to take charge of your life.
Let's journey together to glowing health. Learn More
Your Health Transformation
Starts Here!
Sign up to get FREE healthy lifestyle tips and recipes!