Raw Vegan Walnut Date Truffles
These Walnut Date Truffles are so sweet and caramelly they'll satisfy the meanest of sweet tooth. I should know cause my mom, who even though is a tiny lil thing, has a ravenous sweet tooth the size of a dinosaur. She said they cured her sweet tooth while at work and this statement is HUGE!
She works at a hospital, where in the break room they bring a constant supply of the worst of the worst junk foods. She has a hard time resisting when working long hours under heavy stress. You know that feeling when you want to grab something comforting and numbing to feel good for the moment but then you totally regret it the instant you give in.
So I've been working hard to come up with snacks and meals that keep her stomach full and her wandering eyes searching for a quick sugar fix, still. I'm so thrilled that these walnut date truffles have been a success in doing just that.
They're so quick and simple to whip up. In literally 5 minutes and with just a few ingredients you have a dessert and energizing snack ready to go. They can be kept in the freezer so you can keep them longer and just pull from them as needed. Otherwise they'll last in the freezer for about 7-10 days. They're quite sweet and filling so you may only need a couple to feel satisfied.
The ingredients are almost all from Costco so the prices were reasonable and easy to find. In general I don't love the idea of supporting the cold warehouse chains, mostly because they leave a large carbon footprint on our planet, promote waste and aren't sustainable for local communities. But, it cannot be denied that they make accessible certain products especially organic ingredients, that may normally be out of range for the average person.
So, if the Costco's or Walmart's of the world help make going vegan affordable and accessible to to the greater masses, by all means bring it on!
They're gluten-free, refined sugar free, grain free and absolutely guilt-free! Walnuts are filled with nutritional benefits. They're a source of iron, magnesium and calcium, B vitamins, vitamin E and are rich in Omega 3's and essential fatty acids like ALA and linoleic acid. They're also an anti-inflammatory food helping to reduce inflammation in the body making them a great fibro-fighter food! Plus, just one ounce of walnuts contains 4 grams of protein.
Protein is found in every living plant food so it's never really a concern as long as you're eating enough calories and a wide variety of foods, from veggies, fruits, greens to nuts and seeds you'll get your protein!
These truffles are totally kid-friendly, the ingredients are 100% whole and nourishing. Those are the best kind of snacks for their growing bodies. What better sweets than these for them. They can easily be packed in their lunch bags for school and yours for work. There's no excuse not to eat healthy!
Crunchy Walnut Date Truffles
Recipe:
Makes 12 truffles
1 1/4 cup raw walnuts*
12 medjool dates, pitted**
1 tablespoon coconut sugar for dusting
Directions: 1) Set aside 1/4 cup of walnuts chopping into pieces for later use 2) In a food processor blend 1 cup walnuts into a coarse flour 3) Add the dates and continue to blend until well mixed together, make sure not to over process. 4) Scoop out mix into a bowl adding the chopped walnuts and mixing in well. 5)Scoop out one large tablespoon at a time and roll into balls 6) Dust with the coconut sugar. 7) Place onto a covered plate and freeze for 45-60 minutes.
Optional toppings for date bars: Carob powder, cinnamon, almond slivers, sesame hemp or chia seeds, shredded coconut. Add these before freezing.
*For this recipe I didn't soak the nuts since they need to be completely dry. If you want to soak them, make sure to dry them in a dehydrator before making this otherwise it'll turn it soggy.
**The dates should be nice and moist, if they're not soak them in warm water for 20 minutes or until soft. Make sure to pat dry any excess water.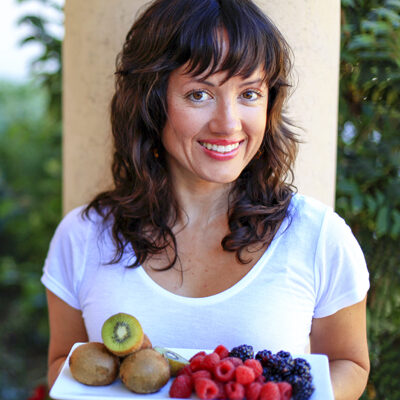 Hi, I'm Christine, thanks for stopping by! As a fibromyalgia thriver (symptom-free for over 10 years now thanks to diet and lifestyle changes), it is my passion to share the healing power of food.
As an RN and Holistic Nutrition Practitioner, it is my desire to empower you to take charge of your life.
Let's journey together to glowing health. Learn More
Your Health Transformation
Starts Here!
Sign up to get FREE healthy lifestyle tips and recipes!