What I Eat on a Raw Food Diet
One of the first questions my clients often ask me is, "What exactly do you eat every day on the raw food diet?"  I am always posting about raw foods and the benefits of the raw food diet, but does that mean I always eat 100% raw foods?  Not necessarily. I do most of the time maintaining at least 75% raw.  I love the raw food diet and how it makes me feel, and if you have read my story then you know that it has brought me back to the road of health and I can't  imagine ever going back to the Standard American Diet.  However, there are those few days when I crave some cooked quinoa or I am in a place where I wasn't prepared and found myself in surroundings of only cooked food and turned to some cooked vegan dish.  And that's ok, I don't judge myself when I can't do it 100%.  In fact, I am not striving for a percentage per say, I am striving to keep healthy in the best way I know, keeping balanced and enjoying what I eat.  The idea is to incorporate as much raw foods into your diet as possible that  you will feel so great you will want to do it all the time.
The one thing that really helps me while I am at home is keeping only healthy, raw, fresh, organic foods in my house.  If there is no junk food  around in the first place I am not tempted to eat it.   During the week whether at work or at  home I  maintain about 90-100% raw foods.  I prepare all my snacks and meals for work especially when I know  that I will be out all day.  I literally have a large bag filled with all my food.  Keeping food handy and ready to eat is my secret to success.  Then when the weekend comes I know for the greater part of it that I will not be at home so I do the best I can and pack snacks to have handy as much as possible.  The point is during the week and when I am at home I follow my diet strictly, so if it so happens that on the weekend I find myself at a restaurant with friends and I have a cooked meal I don't stress over it.  The idea is it's what you do the majority of the time that counts.  However, I have to say that it really is less and less that I do find myself truly enjoying a cooked meal.
Having said all that, I have decided to do a 30 day food journal for you guys, so you can see exactly how and what I eat.  I will include pictures and ingredients of what I make.  I hope this will help, especially for those of you who may be contemplating the raw food diet or simply new to it, to give you a better idea how to eat, keep satisfied and not get bored. So please check it out on my food diary page.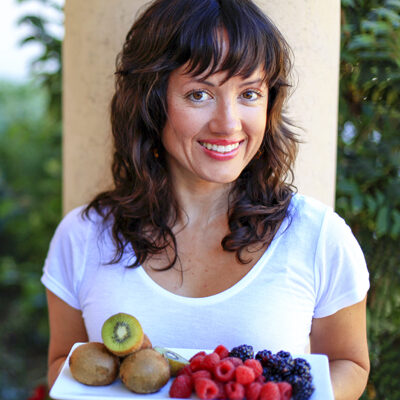 Hi, I'm Christine, thanks for stopping by! As a fibromyalgia thriver (symptom-free for over 10 years now thanks to diet and lifestyle changes), it is my passion to share the healing power of food.
As an RN and Holistic Nutrition Practitioner, it is my desire to empower you to take charge of your life.
Let's journey together to glowing health. Learn More
Your Health Transformation
Starts Here!
Sign up to get FREE healthy lifestyle tips and recipes!