Raw Vegan Challenge Day 9 + Green Juice Recipe
Day 9 – Raw Vegan and RSS Fireside Chat
Much better day today, took a bath with an ounce of bleach and took some anti-viral meds, looked 50% this morning and continuing to improve
Red Skin Syndrome Fireside Chat:

So what's it like HP having Red Skin Syndrome?
One of the most horrific experiences I could ever have imagined. (Click the link above to see pictures of the CoFounder of ITSAN while she went through Topical Corticosteroid Withdrawals. You'll find other patients and their pictures in the same section. Be advised, some of the pictures are quite disturbing.)
I often reflect on the Biblical account of JOB as many of you are familiar with. Where after every tragic thing imaginable happens to JOB, he gets boils and his skin becomes so itchy he breaks ceramic jars and uses the shards to scratch himself until he bled to get relief from the deep intense itching. That actually seemed an appealing way of finding relief to me in the beginning of Topical Corticosteroid Withdrawals. (And I only wish I was exaggerating, as often times I have been known to do.)
Itching is the lowest form of pain. Which means until a Red Skin Syndrome patient is completely healed they are in pain every day. Of course, this doesn't include the constant burning, stabbing pain and swelling skin which feels as if it is ready to burst if you inhaled too deeply. Trust me there are times I wish I could have swam in a vat of Topical Corticosteroids just to make it stop for 1 day. At times it is so physically agonizing that the body, which must be by design, automatically suppresses cognitive mental and emotional functioning. The first 4 months of withdrawals were a complete blur to me. I couldn't recall conversations if my life depended on it.
All of us who have chosen to stop Topical Corticosteroids 'cold turkey' do so based on the promise of complete physical recuperation. Eventually. In 6 months to 3 years…
For more information and fun facts, check out www.itsan.org, the International Topical Steroid Addiction Network.
Day 9 of 30 Day Raw Vegan Challenge
Breakfast – More Green Juice and a quart of water.
Today's Green Juice Recipe: 1 head of celery (the whole thing, minus the bottom root knot), 3 green apples, 1 Meyer lemon peeled, 6 cups of Kale and then I diluted it with water.
Snack: My husband made Guacamole and I chowed down on it with Yam Chips. (Used the food processor to get them thin, don't need to soak Yams they don't oxidize like white potatoes.)
Dinner – Salad de Olive. Romaine lettuce roughly chopped, green olives, black oil cured olives and grape tomatoes. Squeezed ½ a lemon and drizzled expeller cold pressed organic virgin Flaxseed oil for dressing.
Snack – 2 oranges and dried tart cherries.
Heather Petersen
www.eczemancipated.com
Facebook: Eczemancipated
Twitter: @HPEsthetics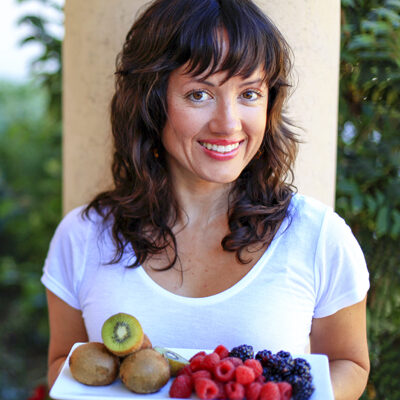 Hi, I'm Christine, thanks for stopping by! As a fibromyalgia thriver (symptom-free for over 10 years now thanks to diet and lifestyle changes), it is my passion to share the healing power of food.
As an RN and Holistic Nutrition Practitioner, it is my desire to empower you to take charge of your life.
Let's journey together to glowing health. Learn More
Your Health Transformation
Starts Here!
Sign up to get FREE healthy lifestyle tips and recipes!