Green Power Flu Fighting Juice
The flu season is here, and at my clinic where I work almost everyone is running to get their flu shots.  They are provided for free and brought right to us so we don't even need to make a special trip.  How convenient.  So when I was encouraged to get mine what was my response?  I said "I am declining, thank you", and signed the opt out form.  Of course, you can imagine the strange looks from fellow medical staff of almost disbelief.  I explained, " I drink my vaccines".  At the time I had a big green juice in hand so that is what I was referring to.  But really, being on the raw food diet I eat my vaccines daily and plenty of them!  As Hippocrates said, "Let food be thy medicine, and medicine thy food."  Food is powerful and healing and is the best source for immune boosting nutrients.
Green juice is an excellent way to get a powerful dose of nutrients that maybe you normally wouldn't get in your diet.  If you're not eating much of broccoli, kale, collard greens or other green leafy vegetables then green juice is an excellent way to sneak them in your diet and get the potent nutritional benefits from them.  By the way even if you are one who really does not like the taste of these vegetables believe it or not in a juice like this recipe you don't even taste the broccoli or the bitterness of the greens.
This juice contains a host of immune boosting, anti-viral and anti-bacterial nutrients that will help support your  body's natural defense system against flu's, colds or other viruses.  Ginger alone has been shown to kill cold viruses, contain two natural antibiotics, combat fever and chills and even helps eliminate congestion.  So don't wait til the first sign of flu hits start building your system up now with fresh juices like this one, and adding fresh fruits and vegetables in your diet.
For those of you new to green juices, I assure you that this juice is mild tasting, not a strong bitter green taste. There is a nice mild sweetness to it.  And with time, your taste-buds will change as you clean up your diet and you will actually find yourself craving the green juices over the sweeter ones.
Serves 1 (20 ounces)
Recipe:
1 cup broccoli, (stems included)
2 cup romaine lettuce
4 small collard green leaves
1 lemon, peeled
5 long celery stalks
Thumb print size chunk of ginger
2 Fuji apples, seeds removed
Put all above ingredients through your juicer, pour into a glass. (Optional) strain with a strainer to make it extra smooth.
Health benefits of Broccoli:
– Broccoli is rich in calcium (it contains more calcium than most dairy) and vitamin K, helping to maintain strong bones. Vitamin K has been linked to greater bone density and reduced bone loss in early post-menopausal women.
– The beta-carotene in broccoli has been shown to protect the eyes against macular degeneration and cataracts.
– Broccoli is rich in chromium, which is known to help regulate insulin and diabetes control.
– Broccoli contains high levels of vitamin C which is an antioxidant and helps to prevent colds.  It is also rich in flavonoids, zinc and selenium which strengthen our immune system.
– Broccoli contains folate which is an important nutrient that protects the unborn child from birth defects.
There are so many amazing benefits of broccoli to see more click here.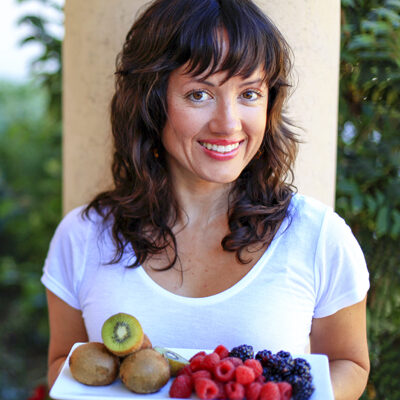 Hi, I'm Christine, thanks for stopping by! As a fibromyalgia thriver (symptom-free for over 10 years now thanks to diet and lifestyle changes), it is my passion to share the healing power of food.
As an RN and Holistic Nutrition Practitioner, it is my desire to empower you to take charge of your life.
Let's journey together to glowing health. Learn More
Your Health Transformation
Starts Here!
Sign up to get FREE healthy lifestyle tips and recipes!