Padre Bio Vegan Restaurant in Puglia
If you've read my previous posts then you probably know that we spent a month in Puglia this summer. It was one of the best trips I've ever had. Mostly because Puglia has a way of making its way into your heart, partly because of where we stayed, partly because of the company and a lot because of the food lol. (Click HERE to read all about our trip, where we stayed and sights to see).One of the highlights of the trip was stumbling upon the vegan restaurant 'Padre Bio' in Trani. A little jewel in the midst of an antique fisherman town. The food was exquisite, the owner delightful and the establishment full of vibrancy and character.
You know how sometimes you can get such a good vibe from a place the minute you see it? That's exactly what happened at Padre Bio. First, in case you might not have noticed the name's a play on a famous saint called Padre Pio, Padre meaning father and "bio" here in Italy means organic, thus the name Padre Bio. We got a kick out of that right off the bat. All the colorful healthy-hippie jargon all over the front of the restaurant including the signs pointing to it had an eclectic yet cool hippie feel to it, which I love. Needless to say, I was instantly intrigued.
I went together with my family, none of which are vegan, but partly of whom are opened minded. …and then there's my husband. It's very rare that he'll join me in a vegan restaurant experience. But he conceded to this opportunity ever so willingly WITH the idea that he'd eat afterward somewhere else.
It ended up being such a hit for EVERYONE including him, that I wanted to share with you our experience. If you're ever in Puglia make sure to check out Padre Bio it's so worth it and the town itself is a historical beautiful place to tour.
I should mention that we were all very hungry by the time we found Padre Bio that I didn't get the best pictures as I had hoped to. It was torture for everyone having all the food in front of us and me trying to get the perfect shot, so I just did what I could and called it a day. The food may not look as appetizing as it was but I promise this place does not disappoint.
We started off with a round of a fresh juice made with the local fruits and veggies they'd gotten that day along with a vegan cheese platter accompanied with a hearty homemade whole-grain bread. It was delicious. The owners wife is from Israel so he told us he uses a lot of different spices than those typical to Italy. One of my favorite spices he used was zaatar. It adds incredible flavor and brings the food to life in a way you can't imagine.
The next dish, chosen by my husband, was this chopped veggie, citrus, oat salad. Now you know the chef's got skills when he can make a plain 'ol chopped veggie salad seem like the highlight of the meal. We  couldn't get over how delectable this salad was…especially with oats. It honestly didn't sound appetizing at first and I never would've thought of using raw oats in a salad like this but it was fabulous!
It's made with chopped zucchini, tomatoes, carrots and olives and dressed in an olive oil citrus dressing with zaatar, then he adds oats to soak up all the juice giving them a cooked texture. They really added a hearty feel to it. My husband devoured this and wanted more, that says A LOT!
Next we ordered pasta with a walnut turmeric cream sauce topped with chopped walnuts, simply fab we all agreed. All the pasta and bread is made there using whole grains. You can taste the difference.
My favorite was the Omelette made with garbanzo bean flour and zucchini and stuffed with rice, carrots, apple, curry spice and tahini sauce. This was absolutely scrumptious. We ended up ordering a couple of these and scarfed them down. It was incredible how it looked like an omelette and if your'e craving one this will definitely satisfy that craving!
Last but not least we finished off with a round of in-season fruit cream tarts. We each ordered a different fruit from figs, to peaches to berries. As you can see it was one better than the next. The options change from season to season since all the produce is seasonal, just another reason why this place rocks!
After talking with the Chef/Owner it was quite apparent that so much thought and creativity went into each ingredient and each meal. Everything was carefully picked to make the ideal combination for health and for flavor. That's a rare find.
I was really surprised at how many vegan restaurant options there were in Puglia it was so wonderful to see how open they are to veganism. Unfortunately Padre Bio was the only one we got to try. But I hope and encourage you if you're in Puglia to show your support to this lovely local gem it will be a delicious experience.
When we spoke to the owner he mentioned that he may have to start adding some non-vegan options to keep it in business since he wasn't getting the support he needed to stay in business so please show your support when you see vegan restaurants, we vote with our dollar and where there's a demand there will be a supply. And when we support the individual, local owned business we're supporting an individual, a family and ultimately a community.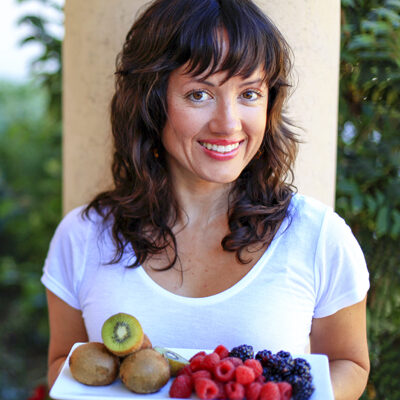 Hi, I'm Christine, thanks for stopping by! As a fibromyalgia thriver (symptom-free for over 10 years now thanks to diet and lifestyle changes), it is my passion to share the healing power of food.
As an RN and Holistic Nutrition Practitioner, it is my desire to empower you to take charge of your life.
Let's journey together to glowing health. Learn More
Your Health Transformation
Starts Here!
Sign up to get FREE healthy lifestyle tips and recipes!