Rustic Spinach Sweet Potato Tart (Vegan)
I am so excited to finally be sharing with you this Spinach Sweet Potato Tart recipe. It has been long over due and I apologize. When I shared this on my Instagram I got such a good response and everyone wanted this recipe and I couldn't wait to share. But when I sat down to actually write this post, many months ago, I realized after having worked through this tart step by step meticulously I never even wrote down the recipe! I seriously couldn't believe it.
I wracked my brain trying to remember in detail all the measurements and steps but I didn't want to take the chance to spoiling it I decided to wait to make it again. Well, I left for my Puglia trip the next day for almost a month. You can imagine that by the time I got back the recipe was a faint blur. So I decided to redo it all and well…here we are today. I thank you for your patience! But I have to tell you I think this one will be worth the wait!
This spinach sweet potato tart is vegan…I think you know that by now lol, and completely home-made, even the dough and it's quite simple to make. If you wanted to get even simpler you can simply but a gluten-free or wholegrain dough or one already made. This crust is made with a combination of buckwheat flour, which is gluten-free, and Kamut which is a whole grain but not gluten-free. But the mix helps cut down on the gluten and using whole, unrefined grains like Kamut I find it doesn't really bother me.
If you needed to substitute the Kamut with a gluten-free flour I'd think rice flour, or even corn meal might be good ones, but don't quote me on it I've never tried it with this recipe. I'd google it to confirm that.
Having lived here in Italy now for over a year I'm finally starting to experiment with vegan versions of Italian foods that involve dough. I can't explain why but I've just felt paralyzed when it comes to any recipe with making dough, breads, pizza, focaccia, etc. It's like it feels so foreign to me that I haven't even wanted to dabble in it.
My first attempt was this Rustic Spinach Sweet Potato Tart. My friend brought me to her house, we bought the ingredients together, she walked me through even having me step-by-step rolling out the dough, kneading it and all with the big rolling pin so I finally got my foot in the water and I got to see how easy it really is.
The beauty about the vegetable tart is that it can be eaten warm or room temperature and it's still delicious. That makes it great for lunch at work or school and you don't have to worry about trying to heat it up, especially if you don't use microwaves like me. I'm always looking for lunches that don't have to be heated when I'm eating at work.
The other beautiful thing about this tart is that it's so versatile. You can change the veggie mix each time as you like and it'll feel like a whole new recipe. For example, you can use regular potatoes and peppers, or swiss chard, onion and zucchini. The onions and herbs are what really give this flavor and the chickpea flour acts as the binder the way an egg would. So the rule here is use one tablespoon for every egg that you'd use. I find that three work good in keeping it thick and filling.
Also, the veggies can be cooked to your liking. So, if you prefer them to be chunky then you can cook them less, if you prefer them completely soft and mashable cook them more. It's totally up to you.
Let's talk storage. First of all it's so delicious it won't even last that long but to store it you can simply cut it into slices then store in a glass pyrex-like dish or any other plastic-free (preferably) container. It lasts several days and it does tend to get a little soggy the longer it sits.
When you want to heat it up, it's not necessary, but you can heat it in a pan or I put it in my little convection oven for 5 minutes and that's it.
Sunday afternoon is usually my food prep day for the week so I like to make a couple of these for the week for me and my husband, YES the hubby actually loved this (score!). So he can take it for lunch and not fall back on pizza or other junk food. Plus, having easy meals prepared for the week makes life so much easier.
Recipe:
2 red onions, peeled & chopped
1 sweet potato, peeled & chopped
1 bag frozen spinach (about 400 g)
1 slice roasted marinated pepper*
3 tablespoons chickpea flour
1/4 teaspoon nutmeg
3 tablespoons water
Himalayan salt to taste
Crust
100 grams kamut flour
100 grams buckwheat flour
2 tablespoons high quality oil (olive oil, avocado oil, sunflower oil)*
4 tablespoons water(more or less as needed)*
Directions for the crust:
Make the filling:
1)In a large pan sauté the onions with water until translucent 2) add the spinach, chopped sweet potato and salt adding a little water at a time as needed to keep the veggies moist 3) cook until the veggies begin to soften making sure to add water as needed so that they don't burn 4) add the pepper, salt, nutmeg and water and continue to cook until the mix is fork tender (about 25-30 minutes or when the mix is thoroughly cooked), the sweet potatoes* 5) add in the chickpea flour along with 3 tablespoons water.
*NOTE: Before adding the chickpea flour (step 5) make sure the veggie mix is not watery, by this time the water should be absorbed and evaporated.
Make the crust:
1) Turn the oven up to 400 degrees F. 2) In a bowl mix the flour and water, *add water tablespoon by tablespoon for the desired consistency, it's very important to make sure not to add too much so go slow. 3) With your hands mix together well. 4) Add the oil and continue to knead with your hands until it's well mixed and a ball is formed. 5) Place the ball of dough in a bowl, cover with a cloth and set aside for 5 minutes. 6) Transfer the ball of dough to a well-floured work surface. 7) Roll out the dough until it's about 1/8 inch thick and into the shape of  the tray you're using, either rectangular or round. It's ok if it isn't a perfect circle or the edges look rough it adds to the rustic look of it 🙂
Assemble and Bake:
1) Line the tray with parchment paper and gently place the rolled out dough on top of it.  2) Spoon  the vegetable mix evenly on top of the dough starting in the center, leaving a several inches for the border. 3) Fold the edge of the dough over the filling, (optional) brushing the folded dough with oil. 4) Bake until the crust is golden, for about 35-40 minutes. Remove from the oven and let cool for about 10 minutes before serving.
Buon appetito!
I hope you enjoy this Spinach Sweet Potato tart as much as we did, and if you get a chance to make it let me know how you like it! And if you'd like to give this recipe a try make sure to let me know in the COMMENTS below!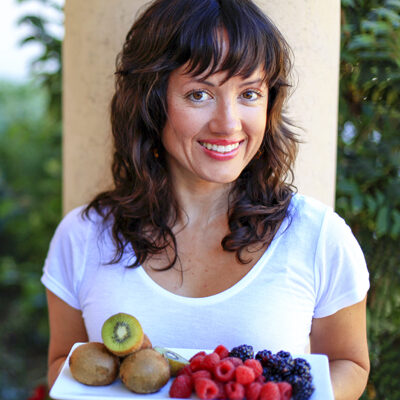 Hi, I'm Christine, thanks for stopping by! As a fibromyalgia thriver (symptom-free for over 10 years now thanks to diet and lifestyle changes), it is my passion to share the healing power of food.
As an RN and Holistic Nutrition Practitioner, it is my desire to empower you to take charge of your life.
Let's journey together to glowing health. Learn More
Your Health Transformation
Starts Here!
Sign up to get FREE healthy lifestyle tips and recipes!