Orange Juice With a Twist
I am excited to say that this juice recipe was created by my husband.  Since having drastically changed his diet to help heal his gastritis naturally, he really has made more effort to create different recipes that he likes.  It's really nice seeing him get into it.  I have to admit, he still doesn't love all the changes he's had to make, but he is now more motivated since he has seen huge improvement with how his stomach feels.
This orange fennel juice has been a staple for me during the winter months.  It's such a simple refreshing juice only requiring two ingredients.  So it's so easy to make in the morning and tote to work with me, it doesn't make a big mess to clean after or washing or preparing of different ingredients.  So, for me having to be out of the house by seven in the morning most days this is the perfect start to my day.  Besides that I've been shopping at the local 'International Market' where I've been buying oranges for 3 pounds for only a dollar! You can't beat that anywhere.  That's one of my tricks to saving money on a raw food diet.  Shopping at Asian or International markets you will find amazing deals.
I first discovered fennel when I was living in Italy.  It was such an interesting vegetable to me and of course the Italians have the knack of making everything they touch taste fabulous, so I quickly fell in love with it!  I enjoy fennel in salads or even just to snack on.  Fennel  is  slightly sweet, aromatic and fresh tasting it's wonderful all by itself.  It really is a wonderful vegetable!
Fennel has numerous health benefits.  It's an excellent source of vitamin C, folate, potassium, manganese, iron, calcium and niacin.  Fennel has a calming effect on the digestive system and is commonly used to treat digestive disorders, relieve intestinal cramps, relieve excess gas and bloating.  It's widely used as an antispasmodic of IBS, to help relax the walls of the gut.
Oranges of course are filled with vitamin C, which helps strengthen your immune system, so are perfect during the flu season to help fight any infections that may come your way.  Oranges are full of beta-carotene, a powerful antioxidant, protecting the skin cells from free radicals thus preventing premature aging.  Also rich in carotenoid compounds which are converted to vitamin A helping to maintain or create good vision and prevent macular degeneration.
Servings 32 ounces (4 glasses)
Recipe:
5 large oranges, peeled
1 1/2 cup fennel bulb, chopped
(optional) a sprig of rosemary to garnish
Put above ingredients through the juicer.  Pour into a large glass, and enjoy immediately.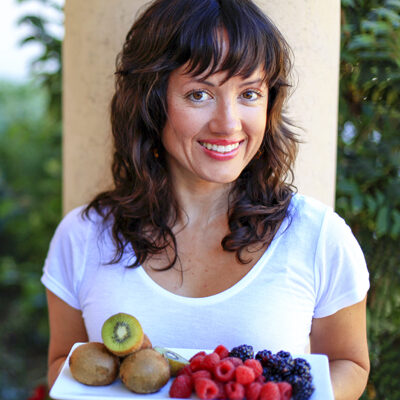 Hi, I'm Christine, thanks for stopping by! As a fibromyalgia thriver (symptom-free for over 10 years now thanks to diet and lifestyle changes), it is my passion to share the healing power of food.
As an RN and Holistic Nutrition Practitioner, it is my desire to empower you to take charge of your life.
Let's journey together to glowing health. Learn More
Your Health Transformation
Starts Here!
Sign up to get FREE healthy lifestyle tips and recipes!