Melon Basil Fig Platter with Orange Cashew Cream
We're on day eleven of our raw food challenge with HP. She's been pumping out so many creative recipes so I've been sharing them one at a time throughout the week. She's been taking her recipe inspiration from the Williams Sonoma cookbook and creating raw vegan recipes with them. This is one of them and it looks absolutely mouth-watering! Here is her commentary:
'This dish is a classic summer pairing in general cuisine. Melon and Figs with Basil Cashew-Cream Sauce is a great option for all times of the day and entertaining. I would recommend it as part of breakfast, a brunch buffet or dessert. Especially dessert on a hot summer evening.
Tip: If you're a looking for an alcohol pairing (though we're not encouraging you and most certainly not if you are detoxing) this would be a great pairing with a Prosecco Mimosa at breakfast/brunch OR with a Syrah, Barbaresco and Port during dessert.'
Recipe:
1 Tablespoon Raw Agave Syrup
Small bunch of Basil leaves
Juice of 1 Orange
Juice of 1 Lime
Melon (your choice, I used Cantaloupe)
1 Pint of Fresh Figs
On a platter or individual serving plates, arrange slices of Melon and fresh Figs.
Put Basil Cashew Cheese, Agave, Orange Juice, Lime Juice and 3 small Basil leaves in a blender and blend until smooth.
Using a spoon, generously drizzle the Cashew-Cream Sauce over the melon and figs. Garnish with small Basil leaves.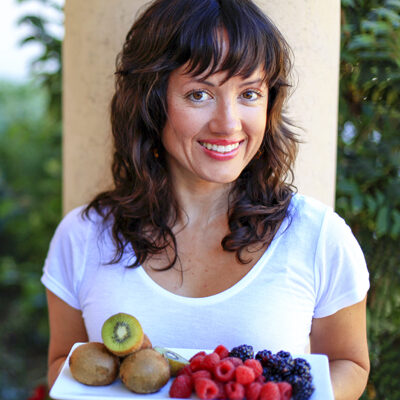 Hi, I'm Christine, thanks for stopping by! As a fibromyalgia thriver (symptom-free for over 10 years now thanks to diet and lifestyle changes), it is my passion to share the healing power of food.
As an RN and Holistic Nutrition Practitioner, it is my desire to empower you to take charge of your life.
Let's journey together to glowing health. Learn More
Your Health Transformation
Starts Here!
Sign up to get FREE healthy lifestyle tips and recipes!