30 Day Raw Food Challenge Starting 06/01/15
I'm so excited that it's that time of year again! If you've followed my blog for a while you may remember that for the last three years around this time, I host a 30 day raw food challenge with my close friend Heather Petersen, I call her HP, who suffers from Red Skin Syndrome and Topical Steroid Addiction. We do this together and hopefully you will join us, in support of helping her journey in healing and to raise awareness for this devastating condition. She'll be introducing herself next week here on the blog and will be guest posting throughout the month of June her updates on how she's feeling, along with her favorite recipes that she makes.
Now if you're thinking 30 DAYS?? There's no way I can do that. That's ok don't feel you have to commit to all thirty days or nothing at all. Think about setting a goal for a week, once you successfully make that if you want to continue you can do so if you choose or not. But just the fact you tried it for a week and did it's a huge step and that is wonderful in itself. OR, you can think about doing thirty days of smoothies for breakfast, or thirty days of breakfast and lunch raw. The point is it's about encouraging you to make a goal of taking a step toward feeling awesome and making healthier changes in your diet. Sometimes it's about baby steps and that's fine too. But to be in it with support is so much better knowing we're all doing it together, right?
For any questions about the 30 day raw food challenge click here it's a post a wrote from last years challenge and it pretty much answers most common questions. However, if you still have further questions please a comment below the post so I can answer them for you.
I also invite you to sign-up, if you haven't already, for my newsletters so that you can take advantage of my free e-book on how to go raw for a day. I share tips and recipes and more to get you started.
If you're looking for ideas on how to eat for thirty days raw check out my 30 day raw food journal here. It's to help give you ideas and inspiration on how one eats on the raw food diet. You can also check out HP's food journal from past years raw food challenge where she's logged everything she eats for 30 days. Click here for that.
To keep up with Heather's progress or to read more of her healing journey check out her blog: Eczemancipated.wordpress.com.
I really hope you join us it won't be the same without you! I'll be posting what we're eating daily on all my social media so click on the buttons at the bottom of the page and make sure to follow. Make sure to share this with a friend by clicking on the buttons below. The more the merrier. Hope to see you there!
If you plan on joining us please let us know in the comments below, it's always exciting to see the support and gets us all motivated even more! Let us know will you be doing it for the thirty days or what is your goal in this time?Let's GLOW!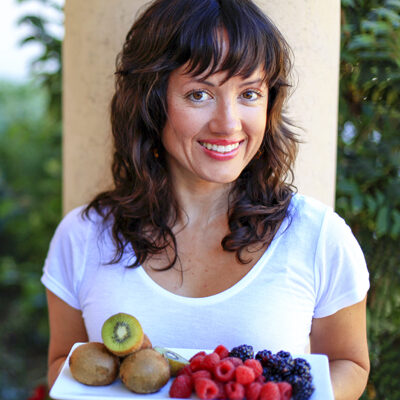 Hi, I'm Christine, thanks for stopping by! As a fibromyalgia thriver (symptom-free for over 10 years now thanks to diet and lifestyle changes), it is my passion to share the healing power of food.
As an RN and Holistic Nutrition Practitioner, it is my desire to empower you to take charge of your life.
Let's journey together to glowing health. Learn More
Your Health Transformation
Starts Here!
Sign up to get FREE healthy lifestyle tips and recipes!