Spiced Apple Walnut Breakfast Bowl
If you're looking for a hearty breakfast, that's satisfying and filled with protein this breakfast bowl is perfect! It's also a nice change up from the usual smoothie. HP shared this in her food journal for this week as she's healing from Red Skin Syndrome.
Her body needs more than the usual amount of protein as she heals and this is one of her staple morning breakfasts. How you start your morning sets the tone for the rest of the day, how you'll feel and what you'll crave. So make sure to get started off right!
This is a great fibro-fighter meal, with ginger and turmeric helping to control pain and inflammation. Apples are filled with vitamin C, minerals like magnesium,  anti-oxidants and fiber. Fiber helps keep you feeling full longer, promotes healthy digestion and helps constipation. Anti-oxidants in apples help fight cancer,boost memory and brain health helping with fibro fog. Apples are definitely a fibro-fighter food.
HP's Breakfast Bowl Recipe:
2 Red Apples cored and quartered
1/2 Cup walnuts
1/2 Cup dried mixed fruit
1/2 teaspoon Cinnamon
1 inch piece turmeric peeled
2 inch piece ginger peeled
Directions: Place all ingredients in the food processor. Pulse blend until it becomes small pieces.
(Do NOT over process into a purée.)
Place in a bowl and add topping. I used diced strawberries for my topping.
Enjoy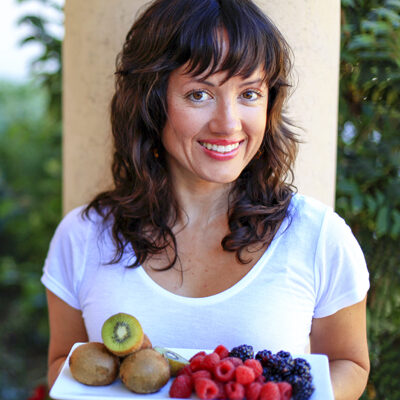 Hi, I'm Christine, thanks for stopping by! As a fibromyalgia thriver (symptom-free for over 10 years now thanks to diet and lifestyle changes), it is my passion to share the healing power of food.
As an RN and Holistic Nutrition Practitioner, it is my desire to empower you to take charge of your life.
Let's journey together to glowing health. Learn More
Your Health Transformation
Starts Here!
Sign up to get FREE healthy lifestyle tips and recipes!