Learn to Cook Like a Raw Food Chef
Last week me and a friend of mine went to a raw food cooking class at Sun Cafe in Studio City/Los Angeles. Many have asked me about it so I thought I would give you a quick review of it what we did, some tips I learned and why I thought it was a really beneficial class.  Unfortunately I was not prepared to blog about it so I don't have any pictures except the two here.
Every Saturday this restaurant offers a raw food cooking class for $20.  The instructor, who is the owner of Sun Cafe, demonstrates how to prepare several dishes of a specific theme.  For example, this time it was breakfast so the menu for the morning was several breakfast dishes such as banana pancakes, sunflower scramble, spinach mushroom Quiche and chia porridge.  At the end it you are given a taste of everything that was prepared…which is really cool.  This was our sample platter:
It all tasted good, but my favorite was the spinach mushroom Quiche.  It is just amazing to see what can be done with raw foods, it tasted better to me than any cooked Quiche I have tasted! It was nice being exposed to new recipes and different dishes that I may not have ever thought of making.
The thing I really enjoyed about this class is the fact that you are watching a professional step by step prepare these dishes, so it helped me see a different method to how I may usually do something.  Another thing I really liked is that he explains things as he goes, how he prepared the food in advance, why he is adding a certain ingredient,  etc.  As he prepares the food, you can ask him questions which made it really informative hearing his answers to everyone's questions.
Three tips I learned: First, that lemon acts as a preserver.  So, if you add like 1/4 teaspoon to dishes that have avocado or banana (or other foods that turn brown quickly when exposed to the air) just add a splash of lemon and it helps keep the color.  Second, for certain dishes that you may want to have a nice yellow coloring (like for the  scramble dish or maybe a frosting) you can add a pinch of turmeric for color.  Third, he explained that flax acts as a binder.  Good to know!
After it was over everyone mingled and got to know each other.  It was nice to meet others who have similar interests in living healthy with raw foods.  I met ones who have done the raw food lifestyle for years and I was able to get helpful tips and beneficial suggestions from  them. This is nice especially if you don't know many others who are into raw foods, it helps you make some connections and possibly friends to help you keep going on your journey.
So, to sum it up I have to say I thoroughly enjoyed it,  and look forward to another Saturday when I can do it again.  If you are not in Los Angeles I encourage you to look around your area and find local restaurants or people that offer events such as this.  It is well worth the money and time, and it was just plain 'ol fun!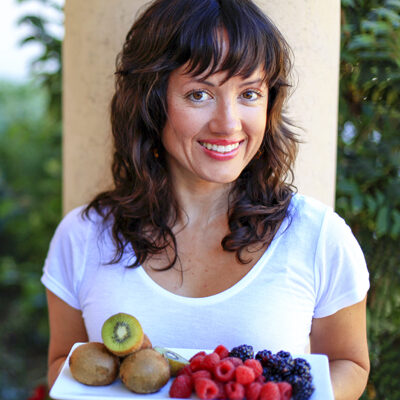 Hi, I'm Christine, thanks for stopping by! As a fibromyalgia thriver (symptom-free for over 10 years now thanks to diet and lifestyle changes), it is my passion to share the healing power of food.
As an RN and Holistic Nutrition Practitioner, it is my desire to empower you to take charge of your life.
Let's journey together to glowing health. Learn More
Your Health Transformation
Starts Here!
Sign up to get FREE healthy lifestyle tips and recipes!