One of my favorite things to do is to eat out at different raw restaurants.  Not just because I absolutely love the rawsome food, but I love bringing friends to enjoy a little adventure of stepping into the raw food world for an evening.  I love to see their reaction as they receive their plate with such a delectable artistic display of the most nutritious, delicious and beautiful food they can ever imagine and then see the delightful, yet silent, moment as they  savor it one bite at a time.  Most agree that it is quite phenomenal!  Basically, it's just nice introducing people to a different yet very healthy way of eating that helps them see that you can have the best of both worlds, delicious and healthy!
Since so many people are always inquiring of raw foods, what I eat, and what are the foods like at raw restaurants I have decided to blog about my experience every time I go to give you a little idea of what kind of foods to expect, and hopefully it will whet your appetite to come back for more…but next time to the real deal!
So this weekend me and my friends ( I am the only raw foodie) decided to try the restaurant called 118 Degrees in Costa Mesa (CA).  We were all excited to have this new experience together.
We started off with some incredible drinks.  My favorite was the electrolyte lemonade made with coconut water, lemon and agave.  So refreshing and it simply hit the spot!
One of the appetizer's we ordered was the Mezze Platter.  The tahini cheese was so creamy and delicious!
Just look at this gorgeous display! This Baja burrito was just thing I had in mind for the mexican food I had been craving for.  The spicy "cheese" and sour cream with cilantro sauce were so incredible it's hard to believe there is no cheese in there!
Well, what to say…one happy camper :).  Not the most flattering picture of myself but I had to put it in to let you see how happy I was by the time I reached dessert… apple cobbler!
All in all it was a a great experience…good food and great company.  The restaurant was nice, with pleasant atmosphere, service was great, prices average and food was good.
Stomach's full and satisfied. Raw fooder's in the making! Hehe 🙂
Do you have any raw restaurants you recommend?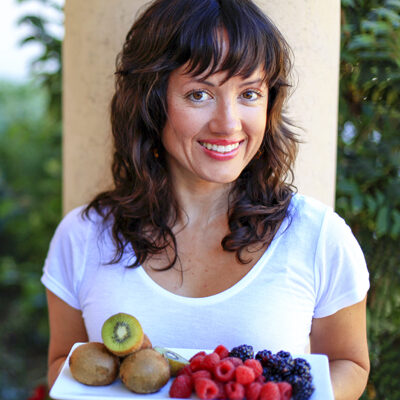 Hi, I'm Christine, thanks for stopping by! As a fibromyalgia thriver (symptom-free for over 10 years now thanks to diet and lifestyle changes), it is my passion to share the healing power of food.
As an RN and Holistic Nutrition Practitioner, it is my desire to empower you to take charge of your life.
Let's journey together to glowing health. Learn More
Your Health Transformation
Starts Here!
Sign up to get FREE healthy lifestyle tips and recipes!