Asian Style Marinated Vegetables with Cauliflower Rice
This Cauliflower Rice recipe was one of my first raw food recipes I ever made. Before going on the raw food diet I used to enjoy Chinese food and a good stir-fried rice. After craving it for sometime I decided to make an attempt to recreate a healthier raw food version of it and here it is. I have to say for having just started out at the time it came out really good!
Cauliflower rice is such a great alternative to cooked rice. It's so quick and easy to make, plus it has so much more nutritional value than white rice. Cauliflower is a food that you definitely want to include in your diet. It is a rich source of fiber, minerals,  and vitamin K which is important for bone health. It has an array of health benefits from detoxifying the body to killing cancer stem cells, thus slowing tumor growth. This is also a wonderful food for fibromyalgia, containing a wealth of anti-inflammatory nutrients to help keep inflammation in check. It also contains choline which helps with sleep, memory and muscle movement and reduces chronic inflammation.
Cauliflower rice is versatile so you can adapt it to any flavor you desire, simply by adding different spices and veggies.  Sometimes I get tired of eating typical salads. Do you ever feel that way?  If so, this is a nice alternative, it's filling and is a total flavor fest in your mouth!
If you have a Julienne peeler it is so much easier than cutting by hand, that can get a bit tedious. You can buy them at any hoe good stores, I got mine at Bed Bath and Beyond. It really makes life so much simpler and it only costs like eight bucks. Money well spent!
Unlike leafy green salads, this is a great dish that you could easily make the night before and have it ready to go for the morning to take to lunch. The longer it sits the flavors can really be absorbed.
Serves 2
Recipe:
1 head cauliflower, cut into florets
2 organic Persian cucumbers, julienned (with skin)
2 carrots, julienned
1 small zucchini, julienned
1 red pepper, sliced thinly
1 1/2 cups Shiitake mushrooms
1 teaspoon grated ginger
2 tablespoons toasted sesame oil
2 tablespoons lemon juice
2 tablespoons coconut amino's
1 clove garlic, minced
1/4 teaspoon turmeric
1/4 teaspoon chili flakes
1/4 cup chopped green onions
To make the cauliflower rice: Place the florets in the food processor pulse blend it until it becomes a rice like texture. Make sure not to over process it or it will turn into a mush.
For the marinade: Place all the ingredients, except the cauliflower, in a mixing bowl and gently toss together mixing in well. Transfer into an air-tight container and marinade for a minimum of half an hour up to several hours. The longer the better for flavor and texture.
Scoop the cauliflower rice onto a plate topping it with the marinated vegetables.
Have you ever tried cauliflower rice? If so share below YOUR thoughts!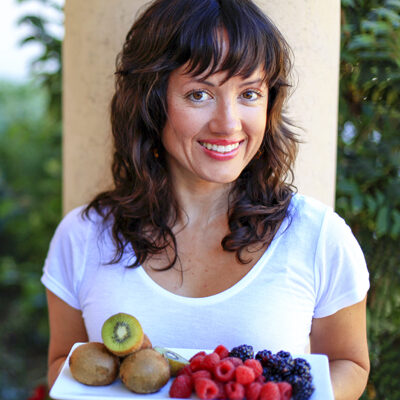 Hi, I'm Christine, thanks for stopping by! As a fibromyalgia thriver (symptom-free for over 10 years now thanks to diet and lifestyle changes), it is my passion to share the healing power of food.
As an RN and Holistic Nutrition Practitioner, it is my desire to empower you to take charge of your life.
Let's journey together to glowing health. Learn More
Your Health Transformation
Starts Here!
Sign up to get FREE healthy lifestyle tips and recipes!