Vegan Curried Red Lentil Kale Soup
This curried red lentil kale soup is creamy, hearty, full of mouth watering flavor and it's perfect for a chilly winter night.  I've been on such a soup kick lately.  But my favorite flavor that I keep coming back to is curry, especially coconut curry… oh my goodness I just love me some coconut curry! If you do too then you are going to love this soul warming soup! I made this for my family and for several guests that we've had over for dinner and they all LOVED it asking for seconds AND the recipe.
Up until a few years ago, when I decided I was going to heal my fibromyalgia with food I was never in the kitchen.  I hated to cook and could NOT follow a recipe to save my life.  So, the fact that I'm whipping up dishes that my family and friends love and want more of is the greatest sense of satisfaction for me.
This winter here in southern California we're receiving more than usual rain.  Let me just clarify, our "more than usual" is probably everybody else's less than normal but hey we are happy to be getting it nonetheless.  So these, cooler evenings call for something warm, and comforting right? I usually make enough for two nights because left overs are so nice to come home to instead of having to cook again.
I use kale in the recipe but if you prefer spinach or another hearty green that'll do too.  I'm partial to the kale because it makes for a nice hearty, rustic  addition to the soup.  I didn't have tomatoes at the time of making this recipe but usually I add them because they give such a nice savory and salty flavor.  So if you have tomatoes on hand I suggest using them.
One of the best perks about eating a plant-based diet is that you can pretty much eat as much as you want.  When you're eating the right foods, whole foods, plant-based foods your body can metabolize it much more efficiently so you don't have to carb or calorie count.  So in the servings I wrote that it makes for five but if you eat large portions like I do, which is about two large bowls, then it might make four servings so just keep that in mind.
Serves: 5
Prep time: 15 minutes Cook time: 35-40 minutes
Recipe:
1.5 cups red lentils, (soaked 8+ hours in filtered water, drained then rinsed)
3 cups curly kale, finely chopped
1 yellow onion, diced
3 carrots, chopped
4 cups vegetable broth
14 ounces full fat coconut milk
1.5 tablespoons curry powder
1 tablespoon cumin
1/4 heaping teaspoon cayenne powder
(optional) 1/2 teaspoon Himalayan salt
1/4 cup water
Directions: 1) In a large pot cook the onion with about 1/4 cup water until translucent (about 5 minutes). 2) Then, add spices (and tomatoes) and continue to cook for about 3 minutes, mixing everything in well. 3) Add lentils and broth and bring to boil. 4) Lower flame to medium-low and add carrots.  Let simmer for about 35 minutes or until lentils and carrots are soft.  5) Stir in coconut milk and cook for another 5 minutes. 6) Turn off stove and add kale. Let it sit for another few minutes until the kale is soft and serve in bowls.
NOTE: Adjust the spices as desired adding more as needed to taste.
I can't wait for you to try this recipe and when you do I'd love for you to let me know how you like it below in the comments, I love hearing your feedback!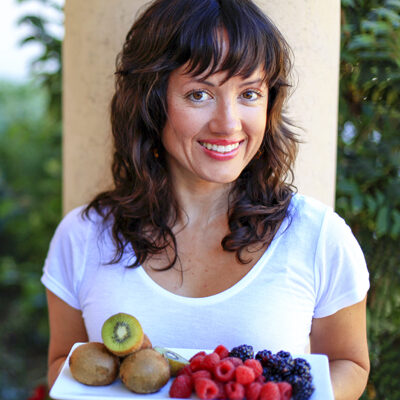 Hi, I'm Christine, thanks for stopping by! As a fibromyalgia thriver (symptom-free for over 10 years now thanks to diet and lifestyle changes), it is my passion to share the healing power of food.
As an RN and Holistic Nutrition Practitioner, it is my desire to empower you to take charge of your life.
Let's journey together to glowing health. Learn More
Your Health Transformation
Starts Here!
Sign up to get FREE healthy lifestyle tips and recipes!