Homemade Chocolate Chip Cookies (Gluten-Free & Vegan)
There's nothing like homemade cookies straight out of the oven, melting in your mouth! Especially when it's chocolate chip cookies and the chocolate melts into the half-baked cookie dough as you take a bite. If you're a cookie fiend like me there's just nothing like it! My obsession before cleaning up my diet that I used to love the 'pizookie' at BJ brewery. It was a big honkin' baked cookie that came in a small pan with melting  ice cream on top.
I am truly a cookie monster. I don't know what it is about cookies I just love them. Yet, oddly enough I really don't have a sweet tooth. But when I want something indulging or have the munchies that's what I'll crave. Strangely enough living here in Italy I can't find just "normal" good 'ol American style cookies. Especially crunchy cookies their concept of cookies is totally different. And they're just not satisfying to me at all.
So I'm always in the kitchen trying to create the next-best cookie, with that perfect crunch, that perfect moistness, or the perfect chewey factor. While on lockdown my cookie craving went to the next level so I have been baking almost daily to make sure I always have some on hand. And the beauty of these homemade, gluten-free, vegan cookies is that they're essentially completely healthy for you so you don't have to stop at just one!
I have made so many batches of these chocolate chip cookies trying to find that perfect dough that wasn't dry or too crumbly. When using gluten free flour it can be a challenge. And while I normally love oat flour I was really trying to come up with an oat free recipe since I tend to use it for most of my baking dishes. I don't use almond flour that often because I find that it tends to be heavy on its own, probably because I use whole almonds that I grind into a flour. Perhaps bought in the store it's lighter. Please let me know your thoughts on that if you've used both and what your preference is.
In this recipe I balanced out the almond flour with the rice flour for a more optimal texture and also because I didn't want a strong almond flavor. I have to say I'm really pleased with how they came out! A side bonus is that the mixture along with the addition of tahini (which you don't taste at all, it's just for texture) created a subtle shortening bread taste to it. I wanted to name these Chocolate Chip Shortening Bread Cookies but that's kind of long so I figured I'll just let you be surprised with the extra creamy shortening taste to it.
Growing up my mom made shortening bread cookies and I feel in love with them so that just makes me love these cookies even more. I also love that they're crunchy on the outside but moist on the inside. When I bake cookies I like to slightly undercook them, turn off the oven and let them sit in the oven several minutes without opening the door so that I'm sure to never burn them or over cook them. I also usually sneak a half baked cookie out of the oven to eat one as it melts in my mouth. I just can't resist the temptation!
These homemade chocolate chip cookies are:
-VEGAN
-GLUTEN FREE
-SO EASY TO MAKE
-CRUNCHY ON THE OUTSIDE AND MOIST IN THE MIDDLE
-PERFECT FOR DUNKING IN A COLD GLASS OF PLANT MILK
-ABSOLUTELY DELICIOUS
-REFINED SUGAR FREE
-OAT FREE OPTION
-EGG FREE
-DAIRY FREE
I can't wait for you to try them, you're gonna love them! Make sure to store them in an air-tight container to keep them as fresh as possible. They'll easily last a week but if you're like me they won't last more than two days in the house! You won't be able to stop at just one!
When you try them, make sure to leave me a comment below letting me know how you enjoyed them. And as always tag me with your photos on Instagram at @justglowingwithhealth I love seeing them!
Servings 13 cookies
Recipe:
3/4 cup oat or rice flour*
1/2 cup almond flour
3 tablespoons tahini**
1/2 teaspoon baking soda
4 tablespoons maple syrup
1/2 teaspoon vanilla
1/3 cup chocolate chips
(optional)1-2 tablespoons  plant milk as needed***
NOTES:
*I prefer oat flour because the consistency holds better but if you need to substitute rice flour is a great option
**Tahini can be substituted with either cashew butter or peanut butter (or any nut or seed butter but the taste may change slightly)
***The tahini needs to be runny, if it's too thick or dry you'll need to add more plant milk tablespoon by tablespoon until the dough sticks together and can be formed into little balls. If this is needed I suggest that you may need a little more maple syrup for sweetness as well.
Any changes or substitutions will inevitably alter the recipe in flavor and/or texture, it will still be good but different than intended.
1) Preheat the oven to 350 degrees F. 2) Whisk together the tahini, maple syrup and vanilla. 3) Stir in remaining ingredients. 4) Mix to form a dough. 5) Use a tablespoon, or a melon ball scooper, scooping a tablespoon full of cookie dough to form into round balls. 7) Place them on an oven tray lined with parchment paper. 8) Use your hand to gently flatten them into round discs. 9) Place into oven and back at 350 degrees for 10-12 minutes or golden brown. 10) Once ready, set them out to cool for 10 minutes on the tray.
Enjoy!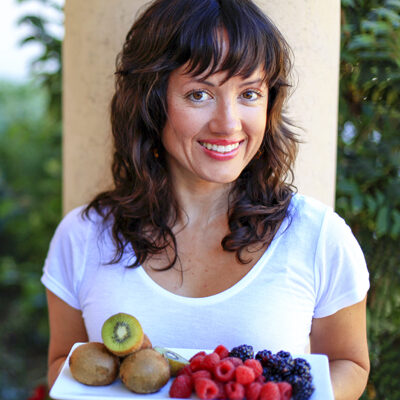 Hi, I'm Christine, thanks for stopping by! As a fibromyalgia thriver (symptom-free for over 10 years now thanks to diet and lifestyle changes), it is my passion to share the healing power of food.
As an RN and Holistic Nutrition Practitioner, it is my desire to empower you to take charge of your life.
Let's journey together to glowing health. Learn More
Your Health Transformation
Starts Here!
Sign up to get FREE healthy lifestyle tips and recipes!