I created this eggplant bacon recipe before moving to Italy. I knew I was going to be getting rid of my dehydrator due to the move, so I went to town trying out so many recipes with it, knowing I may not get another one for quite a while. And while I honestly haven't missed it is as much as I thought, I definitely do miss the few the snack recipes I'd make with it like this eggplant bacon.
The dehydrator made it possible to have some indulgent and super satisfying snacks that really took raw food to the next level like kale chips or zucchini chips, I could eat those all day long and never think of potato chips again thanks to those snacks and same with this fakin bacon.
Eggplant is probably one of my least favorite vegetables so I normally don't gravitate to using it, but in this recipe it's perfect! And while I'm not going to try to say that this tastes just like bacon I will tell you that I've tested this recipe on so many bacon lovers and they all loved this raw version of it and agreed that it was a pretty similar in flavor and texture, and I think it kinda even looks like bacon, what do you think?
The point isn't for it to taste exactly like bacon. But, sometimes when transitioning to raw foods you have old cravings come up and it's nice to have something familiar or similar to your craving even if it's not the exact thing. Whether you like bacon or not these are a delicious and satisfying snack!
I used a mandoline to slice the eggplant but you can use a sharp knife if you don't have one. I got this mandoline at the Asian market and it works great. I love it cause it makes thin uniform slices and it's a lot quicker than using a knife.
They can be kept in the refrigerator for up to a week, if they loose their crispiness you can pop them back in the dehydrator just until they become crispy. I love to eat these as a snack by themselves, or with a salad you can cut them up like 'bacon bites' and add them in or even make a raw vegan BLT, mmm my fave! Here's my recipe for oil-free mayo that goes perfectly with it.
Recipe:
1 medium eggplant,  peeled (optional)
2 Tablespoons maple syrup
2 Tablespoons toasted sesame oil
2 Tablespoons coconut aminos
2 teaspoons smoked paprika
2 teaspoons garlic powder
1 Tablespoon lemon juice
(optional) a dash of cayenne
1) Cut the ends of the eggplant. Slice the eggplant in half lengthwise and then halves again, for a total of four halves. Using a mandoline or a sharp knife slice the the eggplant lengthwise thinly. 2) In a medium bowl stir together all the ingredients except for the eggplant. 3) Add eggplant slices one at a time, making sure to coat each slice thoroughly. (optional) let them marinate for at least 1/2 hour for maximum flavor. 4) Spread the eggplant slices onto a dehydrator tray and dry for around 12-15 hours at 115 degrees F or until crispy. OR you can bake them in the oven. Place them on an oven tray with parchment paper and on the middle rack on the oven, on 325 for about 10-15 minutes, then flip on the other side. If using the oven keep a close eye on them to avoid burning.
NOTE:This resembles bacon more so when the eggplant is peeled, but it does not effect the taste if you don't. It's completely optional.  Coconut Aminos can be substituted with Braggs Aminos, Tamari or low sodium soy sauce.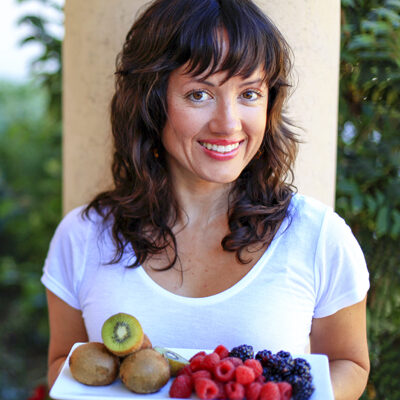 Hi, I'm Christine, thanks for stopping by! As a fibromyalgia thriver (symptom-free for over 10 years now thanks to diet and lifestyle changes), it is my passion to share the healing power of food.
As an RN and Holistic Nutrition Practitioner, it is my desire to empower you to take charge of your life.
Let's journey together to glowing health. Learn More
Your Health Transformation
Starts Here!
Sign up to get FREE healthy lifestyle tips and recipes!