Guest Post: Day 18 RVC + Creamy Lime Avocado Salad Dressing
Can you believe today is day 18? We are more than half way through!
Day 18 of 30 Day Raw Vegan Challenge
Brunch was a Chocolate Chia Bowl with Mixed Berries and Bananas:
Chia Seeds (3 Tablespoons)
Coconut Water (1 Cup)
Soak Chia Seeds overnight in Coconut water. Throw it in the blender the next morning and Blend til smooth. Next add the following items to the Blender:
Banana (1 Peeled)
Cacao Powder (2 Heaping TBS)
Raw Agave Nectar (2 TBS)
Raw Almond Butter (1/2 Cup)
Cinnamon (1/2 tsp)
Vanilla Powder (1/2 tsp)
Blend it up. Pour into a bowl. Top with 1 Cup of Mixed Berries and 1 Banana Sliced. It was Rawdonculous!
More water consumed today.
Made a delightful "Big Salad" for early Dinner which consisted of Arugula Sprouts, Mixed Baby Greens, Cucumber, Celery, Avocado, Mixed Baby Sweet Peppers, Green Onion (we call them Scallions) and Green Grapes.
Then I made a fantastic  Creamy Cilantro Lime Salad Dressing to go with it.
Here is the recipe. Throw all the following items into the blender and blend til smooth:
Green Grapes (1 Cup)
Lime (4 juice of)
Orange (juice of 1)
Green Onion (2, little root strings cut off)
Yellow Baby Pepper (1 seeded and stemmed)
Orange Baby Pepper (1 seeded and stemmed)
Cilantro (1 head, cut the stems with no leaves off)
Avocado (1/2, pitted and peeled)
Pink Salt (1/2 tsp)
If you need it to be thinner add the juice of 1 more orange. But I liked it on the creamy side. 
Comment: If I don't use it all up tomorrow then I will turn it into a Cucumber Gazpacho tomorrow night!
Find Heather on Facebook, Instagram, Pinterest and Twitter @hpesthetics. For more information on TSA/RSS, check out www.itsan.org, the International Topical Steroid Addiction Network. You can also read about Heather Petersen's experience at: www.eczemancipated.com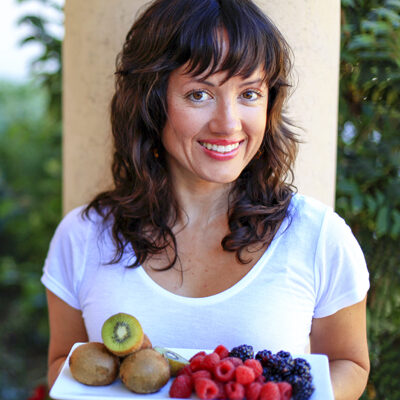 Hi, I'm Christine, thanks for stopping by! As a fibromyalgia thriver (symptom-free for over 10 years now thanks to diet and lifestyle changes), it is my passion to share the healing power of food.
As an RN and Holistic Nutrition Practitioner, it is my desire to empower you to take charge of your life.
Let's journey together to glowing health. Learn More
Your Health Transformation
Starts Here!
Sign up to get FREE healthy lifestyle tips and recipes!