Five New Products to Share With You
From time to time I am sent various products to try, taste, use, etc and then share.  I am not endorsed to do so but if they are products or foods that I love and feel  would be of interest to you then I am happy to spread the word! Recently I was sent several products that I just loved and I know you will too so I am sharing them with you here today. Here they are:
1) Ritual Wellness Juice Cleanse:
These juices are made with only organic, NON-GMO ingredients and are cold pressed yielding more nutrients than other juices.  I was so excited to try these juices because I have wanted to do a juice cleanse.  This was the most convenient way to do it, no work involved on my part.  I just picked the flavors and they were shipped right to me in this insulated bag.  A  juice reset book was also included to walk you through the cleanse making sure you get the most benefit from it.  I took the juices to work in the bag provided and drank one every few hours and it was a great experience.  I had energy all day and never felt hungry.  All the juices tasted so good and it was great having them all prepared and ready for me.
2) Pitaya Plus Smoothie Packs:
I just love these smoothie packs, they come in individual packs that you just add to your smoothie and you're good to go.  They are made from pure Pitaya, dragon fruit, nothing is added to these fruit packs. They add a gorgeous color and lots of antioxidants, fiber and nutrients like vitamin B and magnesium to your drink. They are organic, raw, gluten-free, vegan, NON-GMO, with no added sugar to them.  So you're getting the  real deal. What really impressed me about Pitaya is that they are reaching out to impoverished countries to give new employment opportunities to those that need it most.They are even committed to renewable energy, operating out of one of the only solar-powered factories in Central America. That inspires me want to support a product like this so dedicated to making a difference, in health and environment.
3) Philosophie Superfood Powders:
If you are looking to add more dense nutrients into your diet, these raw, organic, gluten-free superfood powders by Sophie are awesome and they actually taste so good! Greens are so important in our diets yet are so commonly neglected.  So, if you are looking to add more greens in your diet without the strong greens taste the Green Dream is for you, it almost has a caramel creamy flavor to it and blends so nicely into a smoothie.  These powders are filled with superfoods, protein and important nourishing nutrients to feed your cells with.  They really make a great boost to your meal.
4) Live Love Pop Popcorn:
Who doesn't love a good snack? One of my favorites is popcorn, it's light, crunchy and just satisfying when I have the munchies.  This popcorn is vegan, NON-GMO, gluten-free, and basically guilt-free.  They come in three delicious flavors, my personal is lime fresco so yummy. Who said healthy snacks aren't tasty! My husband is a big fan too, he takes them with him while he's on the road or when he is out all day to have a snack with him.  He is a potato chip kinda guy so I would much rather him be snacking on this!
5) Two Moms in the Raw Bars and Truffles:
Two Mom's in the Raw is a family owned manufacturer ran by a mother daughter team.  Shari (the founder) has a truly inspiring story of healing from Multiple Sclerosis through raw natural foods, now she shares her healthy delicious treats with the world. They make nut bars, granola bars, cereal, truffles and crackers.  They use nothing but simple and organic ingredients.  All their products are vegan, raw, gluten-free, NON-GMO and they are hand-made.   These are the perfect snacks when you are on the go or at work and don't have much time but need something filling and satisfying.  They taste like dessert but are healthy, energizing and filled with only the best ingredients to nourish your body.  The Green Tea Vanilla Truffles are amazing! I carry these in my purse when I know I will be out for a while and may need a little snack. Having snacks you love on hand is a huge key to success in maintaining a healthy way of eating!
I hope you enjoy these products as much as I did! If you haven't signed up to receive my FREE weekly newsletters I invite you to do so at the top of the page, so you never miss a post.  I have exciting things coming up that I will be sharing with only those signed up.  Don't miss out!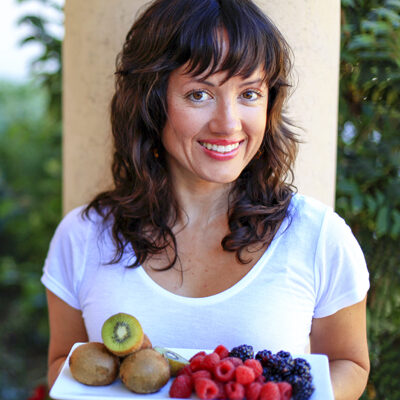 Hi, I'm Christine, thanks for stopping by! As a fibromyalgia thriver (symptom-free for over 10 years now thanks to diet and lifestyle changes), it is my passion to share the healing power of food.
As an RN and Holistic Nutrition Practitioner, it is my desire to empower you to take charge of your life.
Let's journey together to glowing health. Learn More
Your Health Transformation
Starts Here!
Sign up to get FREE healthy lifestyle tips and recipes!